Successful search campaigns are cross-collaborative and integrate organic and paid search to deliver better reach and visibility for your brand.
Successful search campaigns are cross-collaborative and integrate organic and paid search to deliver better reach and visibility for your brand.

Search Engine Optimisation (SEO) and Search Engine Marketing (SEM) are two unique strategies when it comes to driving the performance and efficiency of a company.
The main difference between the two is that SEO focuses on website optimisation through organic search while SEM focuses on website traffic from paid media and covers paid search and pay-per-click (PPC).
Keywords are the link between you and potential customers. It's how they find you, through both organic and paid results. SEO relies on keywords and content creation to deliver information to consumers.
To rank higher with Google and therefore generate more traffic to your website, it's important to optimise content and make it relevant for the user. Organic search results usually rank after the paid ads on the Search Engine Result Page (SERP).
Only by incorporating SEO in your marketing strategy will you rank higher on the SERP. The higher you are, the more likely someone will find and click on your listed content.
Benefits of SEM
SEM is a digital strategy where businesses pay for ads to appear at the top of the SERP, therefore, gaining instant visibility on the search engines. Comprehensive keyword research is the foundation of SEM, so your ad appears to relevant customers for whom your business can offer a solution.
The most common paid ads are:

• Search Ads
• Shopping Ads
• Display Ads
• Video Ads

SEM gives you control over your audience, keywords and landing pages. With SEM, all the data from campaigns are available, so you can test and refine your marketing campaigns and strategies while incrementally improving your campaigns.
Some keywords are extremely common so it's essential to use paid search to target highly competitive keywords. Targeting these keywords organically is challenging, but with SEM your business will have a chance to be seen.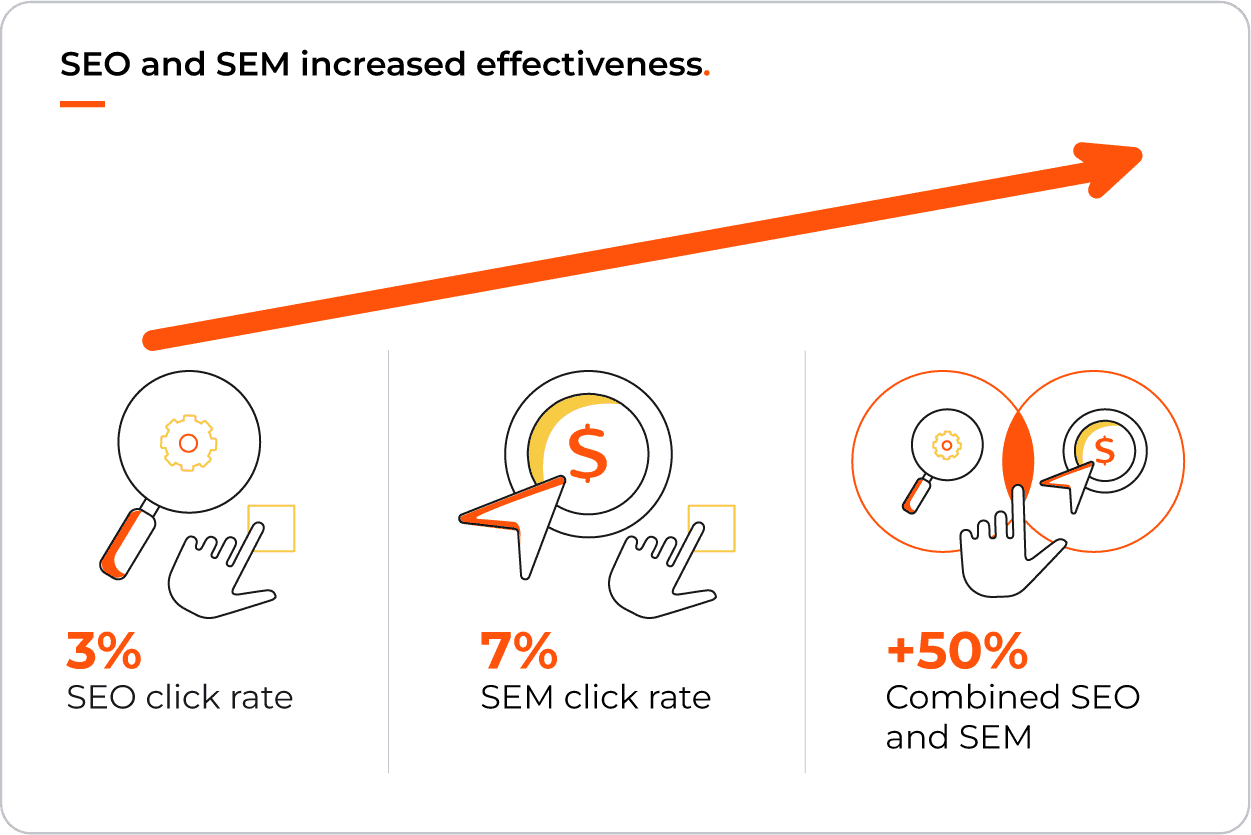 Removing silos between SEO and SEM to increase their effectiveness
SEO is the foundation for good SEM, and although they are effective tools when used separately, together they deliver an optimum search experience and open up a wealth of opportunities to drive growth and increase conversion rates.
Working in silos leads to media wastage, traffic and conversion loss and less effective performance.
Some of the key benefits of integrating SEO and SEM are:
1. Paid Search for driving multi-funnel engagement
Creating connections with customers across channels and learning how they navigate your digital platforms will help you to personalise and streamline your user experience. A successful paid strategy delivering rich data will also help drive traffic to other channels such as social, improving your visibility.
2. Retarget ads to the organic audience
To increase the effectiveness of SEO, you can target your customers who found you as a result of organic search, with SEM campaigns. This will increase your chances of being remembered and inevitably conversion. This is also a way to increase your Return on Investment (ROI) due to the relatively low cost of retargeting ads to your organic audience.
3. Organic can help reach business goals
Implementing an SEM strategy is not enough to ensure the success of your marketing strategy – not all KPIs can be reached with paid strategies. It's also essential to have an efficient SEO strategy based on thorough research. Unless you have the specialist skills to optimise your marketing strategy with SEO it's wise to engage a professional team who can perfect your strategy and increase ROI, particularly if you are operating on a low budget. Improve Google rankings and organic traffic to your website with our SEO services.
4. Greater scope of market insights
Paid search delivers the data that allows you to target audiences who are similar to your organic audience. Our proven methodology has driven noticeable increases in performance for our clients over the years leading to Search becoming an even more effective channel. By combining SEO and SEM strategies you can leverage market insights and better understand data to maximise results for your business.
Although when operated independently, SEO and SEM are effective search strategies, when integrated they drive performance and improve conversions incrementally.
Our OneSearch strategy combines both organic and paid search activity to help brands maximise their share of voice by providing a unified view of search performance and delivering business results.
If you're ready to streamline the marketing processes for your business. Contact us to learn more about OneSearch today.
Learn more about our OneSearch services
Are you ready to drive success with an

integrated SEM & SEO strategy

?