The helpful content update serves to reward content that is satisfying for the consumer, while underwhelming content aimed at search engines won't perform well.
Google regularly updates its algorithms to better connect people to relevant, useful information. When the updates are substantial and delivered with an advanced warning, it often means the change could have a strong impact on your site's overall performance. These updates often target specific issues like content, user experience or harmful activities.
Google's update, announced on 25th August 2022, has been called the 'helpful content update' and was rolled in the two weeks following the announcement.
What is the Google Helpful Content Update?
The helpful content update is a site wide signal and part of a broader effort to ensure that Google's users are presented with original and useful content. This people-first approach to content isn't new for Google, with previous updates targeting unnatural language and pages stuffed with keywords.
It can be tempting, when looking to improve your SEO, to write content that search engines rather than people want to see. This practice, however, will prove detrimental to your website traffic volume.
We have compiled a list to help you improve your content and rank well with Google.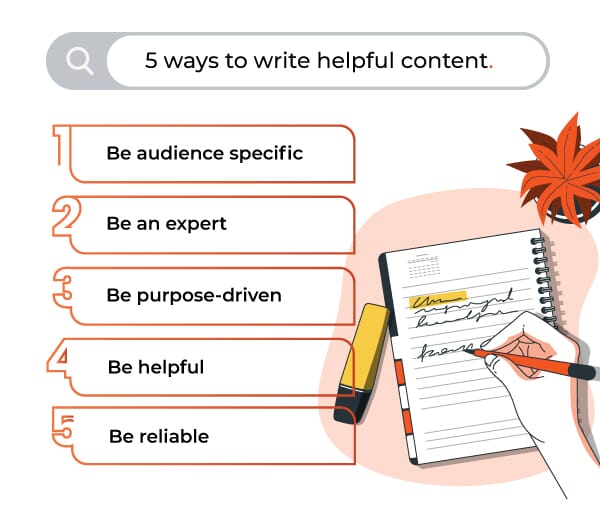 1. Be audience specific
Your content should always have a clear user in mind. Remember, people use your website and buy your products (not crawlers).
Each time you build a new page or write a new article, consider - who is this targeting and what do you want them to leave your site knowing?
2. Be the expert
Make sure you're showcasing your expertise on the subject you're writing about. It's important that you demonstrate first-hand experience and have an informed perspective.
Show Google and users who find your site that you are knowledgeable and that your input is valuable.
3. Be purpose-driven
Don't try to target everyone and everything but rather ensure your website has a clear, primary focus.
4. Be helpful
Do your research to understand what people want to know. What are the questions your clients always ask you? If you were to do a quick Google search what are people asking? Answer these questions, and you'll be on your way to providing useful and insightful content.
5. Be reliable
Don't promise something that you can't deliver or make claims that aren't factual. If you're writing about something inconclusive, make it clear to your visitors that this is so.
How could the Google helpful content update impact your website?
Provided the content on your website has a clear purpose, is well researched and people-focused, your site's performance shouldn't be impacted.
However, if your website has outdated or search-engine-driven content, you should look to remove or rework it so that it's value-rich and purposeful. If you have a large amount of unhelpful content, it may be time to do a clean-out and consider why the content was created and how you can improve it.
Clearing out the clutter of search engine-focused content streamlines information, giving businesses a chance to assess and refocus on business goals and partner up with agencies that can help them to regain or attain healthy rankings.
Our search engine optimisation team are highly skilled at creating value-rich content that aligns with what customers are looking for, so reach out to us today and let us help you rank higher with Google.
Learn about our Search Engine Optimisation (SEO) services.