With privacy laws and data regulations changing, MMM is proving to be a valuable strategy for advertisers and agencies to assess past performance and predict future outcomes.
Marketing Mix Modelling (MMM) is coming back onto the radar, mainly because attribution in marketing is becoming more complex. The changing privacy and data protection landscape means that the user-level identifiers often used for data-driven attribution are no longer available.
Therefore, marketers have to rethink how they approach attribution, which has increased the popularity of MMM and a strategic measurement approach. Nerida Jenkins, Marketing Science Lead at Annalect, explains how MMM studies can benefit both advertisers and agencies.
Many marketers have been preparing for this for years, safeguarding their businesses with first-party data strategies in readiness for the cookieless era. The time has come, however, to leave the safety of the confines and venture out; it's time to see what else is out there.
This is where MMM comes in.
MMM analyses past performance to predict future outcomes. By measuring the effectiveness of marketing tactics, marketers can model potential sales (or other KPIs) using predictive tools and scenario planners at an individual business level, and with collaboration, at a wider industry level from years of historical data across multiple brands.

MMM can:
Identify areas for budget investment that will render the best results, either at an individual business level or across an entire sector
Give accurate predictions as to the effect that any adjustments in media investment and marketing resources will have
Predict the impact of econometric factors on sales outcomes
Reveal even greater insights when combined with advanced machine learning
Provide rich data unattainable from anywhere else, and share the findings with partners or clients
For marketers who do invest in MMM, the increase in ROI can't be overestimated. Pathways likely to maximise media spend are highlighted, paving the way for clear, strikingly successful marketing strategies.
A spotlight on Australian retailers
In 2019 we partnered with Meta, for a study of the auto industry after which, we focused on understanding what optimal investment looks like in the Australian retail sector. We analysed $170 million worth of campaigns with data, over three years. Not surprisingly, many retail sectors thrived during the Australian lockdown periods, due to eCommerce capabilities; the year-on-year growth in retail consumer spending up to March 2022 was 9.4%. We moved forward with this MMM to identify the channels through which investment would yield the most return. It turned out that it was the lesser-known channels that would work the hardest.

Through these findings, Meta created a best practice guide and creative scorecard, to help advertisers and businesses improve their future returns and maximise their marketing.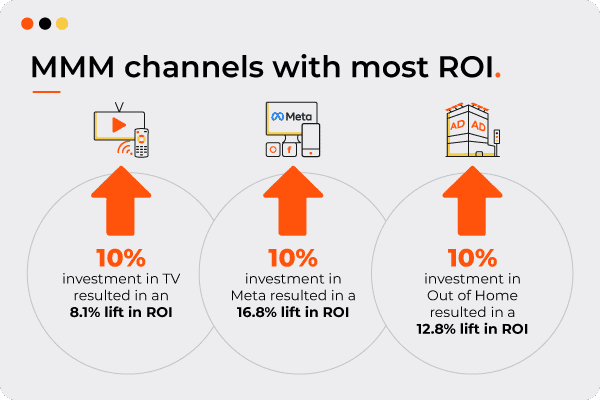 To get to these findings, ads were marked against Meta media and creative best practices like reach and frequency, mobile-optimised creative and having more than 6 placements.
Using a traffic light system, advertisers were then assessed on how they performed against these best practices.
Most advertisers scored well, and those that didn't were given clear pathways for future improvement.

Through this retail MMM study, it was clear that partnerships play a huge role in terms of ROI, particularly for agencies. By working with businesses like Meta, agencies can offer clients new ways to maximise advertising potential.
Learn more about our Marketing Mix Modelling (MMM) related services
Get a demo

of Marketing Mix Modelling tools and recommendations

.