Facebook's annual developer conference, F8, took place in San Jose on 19 April, Australian time. It focused on Facebook's mission to make the world more open and connected and the steps they're taking to do so. In his keynote speech, Mark Zuckerberg revisited...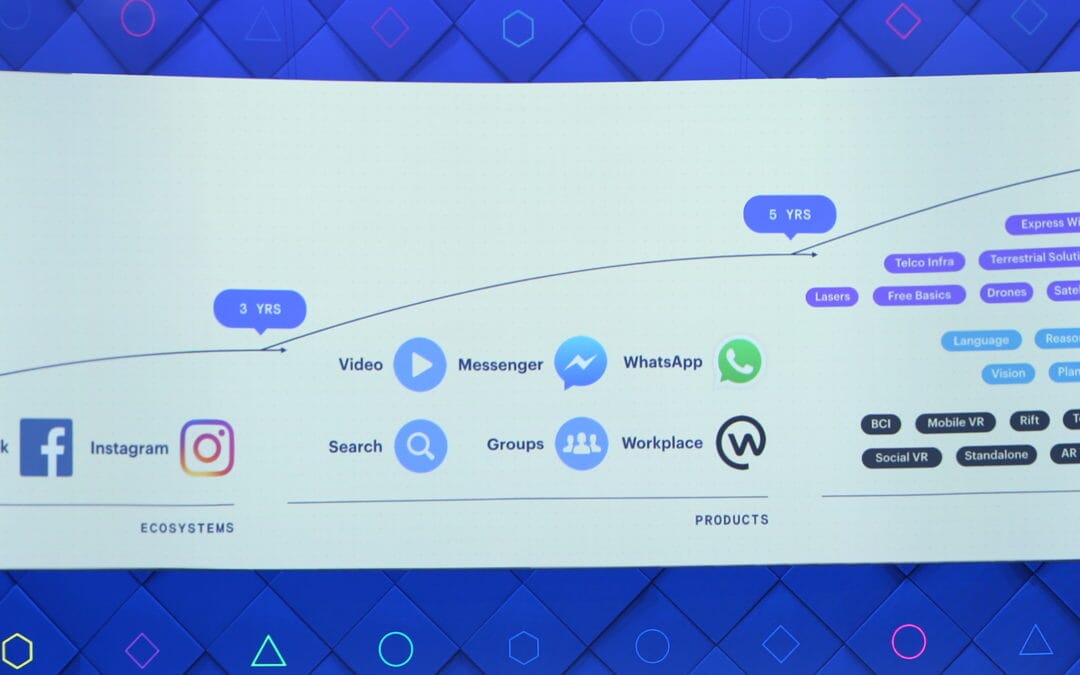 In his keynote speech, Mark Zuckerberg revisited Facebook's 5 year and 10 year roadmaps, with main areas of focus including augmented reality (AR), virtual reality (VR), artificial intelligence (AI) and connectivity in parity with last year's F8.
Augmented reality
Zuckerberg announced that Facebook is making their camera the first AR platform. With the launch of the Camera Effects Platform and supplemental Studio applications, Facebook positioned itself in direct line of Snapchat's offering, seemingly pushing Snapchat to introduce World Lenses on the very same day. Facebook also announced the release of the new 360 cameras – x24 and x6 – optimised for maximum pixel overlap between lenses. This gives Facebook enough data to capture a 3D environment.
Virtual reality
Facebook Spaces was also debuted as Facebook's latest and greatest in VR, allowing users to engage with friends through avatars in immersive experience. Available on Oculus Rift and Touch, Facebook Spaces uses AI to autogenerate a default avatar which is then open to customisation. Spaces also has integration with Messenger video calls to pull non-VR users into the experience.
Artificial intelligence
AI is also a key focus on the Facebook roadmap, in teaching a computer to not just see, but also understand and learn, predict and plan. Facebook is working to train systems that are able to answer any question about the information available in the English-language Wikipedia. As a result of this goal, Facebook introduced Caffe2 – an open-sourced, deep learning framework that will bring AI directly to smartphones and tablets.
Connectivity
Finally, keynote speakers touched on connectivity, the forefront of Facebook's mission statement. Facebook's goal is to connect the 4.1B people who aren't currently connected to the internet. In doing so, they introduced Teragraph, a wireless backbone that lives on telephone poles, which is being piloted in San Jose, California. Additionally, millimetre wave (MM wave) is setting world records in wireless data transmission at 36 Gbps over 13km. Aquila, the plane built by Facebook to beam internet over low-connectivity areas, is now in full-scale flight testing, with 80 Gbps transmission speed with optical cross-link. Eventually, Facebook doesn't want people to care about how many bars they have because being connected will be the standard.
Facebook's F8 conference may be aimed at developers but there are important takeaways for advertisers and new opportunities to connect with consumers.
These are the top 10 highlights:
1. Messenger Platform 2.0
One of the biggest announcements coming from F8 2017 was the launch of Messenger Platform 2.0. Messenger has seen dramatic growth over the past year, with 1.2B MAUs, 100K bots active on the platform and 20M businesses currently leveraging Messenger to connect with people. The update features a Discover Tab where people can go to search for bots, places, businesses and Extensions that can be added to group chats. Currently available extensions allow you to collaboratively put together Spotify playlists, plan a holiday with Kayak and more.
What this means for advertisers: No paid opportunities are available yet but as the ecosystem continues to grow, we predict sponsored featured spots within the Discover Tab will become available. In the meantime, there is increased visibility for advertisers who choose to create a bot or extension.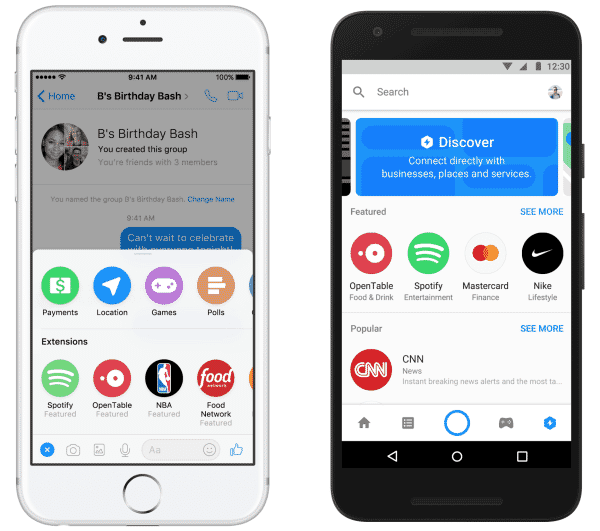 2. Camera Effects Platform

Facebook is making their camera the first AR platform with the new Camera Effects Platform (CEP). The camera will include a searchable library of different effects with a social layer in order to see what friends have been up to. The technology includes simultaneous localisation and mapping, 3D effects, and object recognition which allow for effects such as style transfer and geometry extraction. A closed beta of the Camera Effects Platform has just been launched. The two key components of the CEP are Frame Studio and AR Studio, detailed further below.

What this means for advertisers: The CEP powers multiple content creation tools which will be monetised in the future.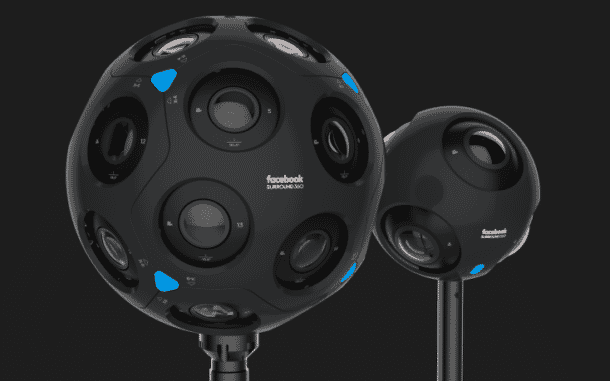 3. Frame Studio
Part of the CEP, Frame Studio is a web app for creating frames and overlays (much like Snapchat filters) for the camera. Frames are able to be targeted by both location and keywords and can include variations of a given frame. Users can tap to change to a different variation, such as displaying a map view of your Nike running route vs. a self-portrait with a running headband. Analytics for effects are coming soon. Frame Studio is currently in general availability.

What this means for advertisers: Although there are no current advertising opportunities, it's likely that this will be monetised in the future and provide competition to Snapchat filters.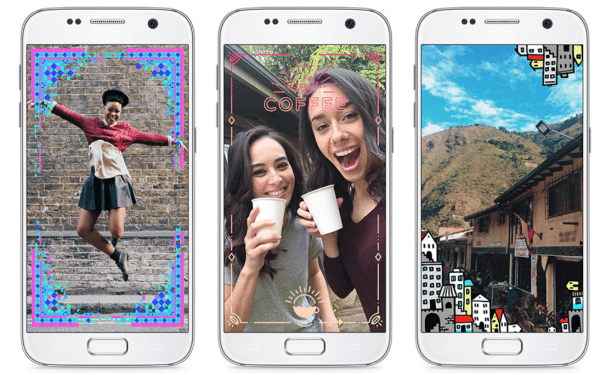 4. Augmented Reality (AR) Studio
Also part of the CEP, AR Studio provides developers with a lightweight method of creating interactive 3D camera experiences. The tool allows for face tracking, world effects (outward facing camera), 3D models and textures, and more. AR Studio uses advanced scripting capabilities that are able to map out 2D images and recognise interactivity and gestures. Additionally, users are able to load effects immediately into devices to preview for a more seamless approval process. An integration with Giphy launches today, where users are able to add gifs to their scenes. AR Studio is currently in closed beta.
What this means for advertisers: Although there are no current advertising opportunities, it's likely that this will be monetised in the future and provide competition to Snapchat lenses.


5. Facebook Analytics
Over 1M apps, websites and bots are currently leveraging the free Facebook Analytics solution, which does not require a Facebook login to use. The 3.0 release includes beta measurement opportunities for Pages and Offline Conversions. Offline Conversions supports 10 standard event types, so advertisers can begin to measure behaviour on offline channels alongside data generated from their other Facebook properties. Connecting a Page allows brands to measure post reactions, comments and shares.
What this means for advertisers: Advertisers can now use Facebook Analytics for apps, websites, bots, pages and offline conversions. The 3.0 update is bringing Facebook closer to providing advertisers a single site to go to sift through all of the data generated by the Facebook family of apps and services. Advertisers can opt-in here.


6. Automated Insights
Automated Insights and Custom Dashboards were rolled out as part of the Facebook Analytics relaunch. Automated Insights leverages machine learning delivering insights in a ranked feed, and the insights improve over time as the system learns. Dimension-based insights offer the opportunity to segment data around audience cohorts, while trend-based insights allow advertisers to understand how metrics change over time. The data can be pivoted and synthesised into charts that are accompanied by a short one to two sentence summary to help advertisers understand the data. Advertisers can also add their favourite charts to Custom Dashboards, which makes it easier to check the most important metrics and trends. This is now available for advertisers with 10K+ daily active users.
What this means for advertisers: Advertisers can now seamlessly view insights from complex data sets in real-time, without having to export and pivot large data sets.


7. Newsfeed Safety / Validity Updates
Fake news and brand safety are hot topics in the advertising world and Facebook announced several relevant improvements to the Newsfeed. Facebook has enhanced the reporting functionality, making it easier for users to report problematic content. Facebook has also rolled out 'clickbait' and false news detections, as well as 'disputed' flags, where content will be marked as disputed, so users are cued to decide for themselves if the information is valid. During his keynote, Zuckerberg specifically mentioned the recent shooting in Cleveland that had been posted to Facebook, assuring the audience that the company is continuing to work on improved filters and controls related to brand and consumer safety.
What this means for advertisers: This has no direct impact on ads.


8. Mobile Commerce
Several announcements were made around mobile commerce, including the introduction of a Shop section that allows for commerce within a Facebook page and tagged products on Instagram. Built on top of the Graph API, the new Shops API Alpha allows for a checkout button and for brands to accept payments within the Shop section.
What this means for advertisers: A native, seamless commerce experience within the Facebook family of apps.


9. Rules Engine via Marketing API (beta)
Facebook released two flavours of push-based rules in open beta that allow advertisers to streamline optimisation processes. The push-based rules differ from existing rule-based optimisation offerings in that they do not require a buying tool to pull ads in order to determine their state. Schedule-based rules execute based on specified time intervals and are available in Power Editor and via the Marketing API. Trigger-based rules evaluate data in real-time and send automatic notifications when the preset conditions are met. They are only available via the Marketing API.
What this means for advertisers:
The use cases for these new rules include but are not limited to:
Dynamic Ad Set budget rebalancing to increase performance
Automated creative rotations to prevent ad fatigue


10. More APIs!
Around 85% of ads created in Power Editor are done by duplicating existing ads. In order to help advertisers streamline the ad creation process, Facebook launched Ad Copy API which enables advertisers to create multiple permutations of campaign trees to replicate and reuse a full campaign strategy. Additionally, Facebook's new Batch API provides advertisers with the ability to create up to 1K different ad objects and send them in a single batch request for processing. The Batch API will also automatically retry ads that have failed to upload and figure out all dependencies between campaigns, ad sets and ads – reducing the manual effort required by advertisers.
What this means for advertisers: Both the Ad Copy and Batch APIs will help streamline campaign and ad creation and optimisation processes, reducing the time spent by advertisers on these efforts.
All photos are courtesy of Facebook.


Reach out to our team to help you streamline social media campaign strategy reducing advertising efforts.