Planning that unifies search engines & retail e-commerce platforms such as Amazon allows brands to approach the customer journey holistically.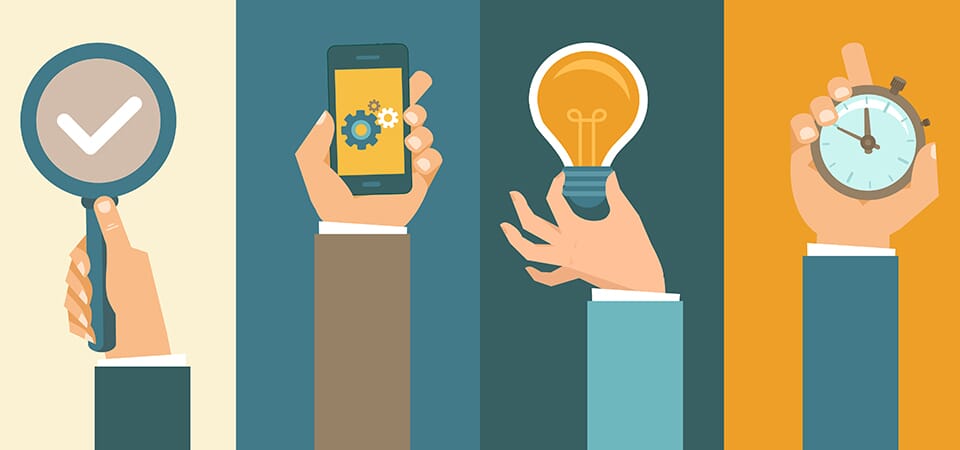 Background
A recent report showed that 56% of consumers from the US, UK, Germany and France begin with Amazon when searching for products online and in a survey, Kenshoo found nearly the same percentage. Several studies show Amazon's growing influence on search behaviour not only for highly transactional searches but also for people in the early stages of research and product shopping.
However, these studies, as well as others, also confirm nuanced consumer behaviour. While Amazon has made significant strides in becoming a primary destination for shoppers, it remains complementary to search engines, retail sites and other key properties for queries and driving sales.
It's important for brands to note that all of these touchpoints remain vital to the consumer journey and need to be approached in a coordinated manner.
Product Search Isn't a One-Stop Shop
Shopping searches increasingly begin on Amazon, but data shows that most shopping searches still go to search engines such as Google and Bing. There also remains a significant portion of shoppers using retail sites (37%), Facebook (36%), eBay (31%), and Pinterest (24%) for touchpoints in the consumer journey. Nearly all of these companies, including Amazon, are making moves to broaden their appeal to shoppers.
Amazon recently launched an upgraded version of brand pages, called Stores Pages, that is meant to be a home base for brands. They also launched a shopping inspiration platform called Amazon Spark to draw shoppers in-app to go beyond purchasing products. Google announced an expansion of the Google Express delivery program with a partnership with Walmart. It's also continuously expanding its Purchases on Google program, which aims to make online buying and fulfilment easier across the web, and recently launched Product Placement Ads, which allow brands to promote products in the search results of retail sites.

Pinterest continues to pioneer visual search, making it easier for users to find related products found within pins and products seen outside the platform. It is clear that these properties serve unique intents, and should be measured in a way that accounts for the entire customer journey – syncing up with the type of search being performed or the product the shopper seeks.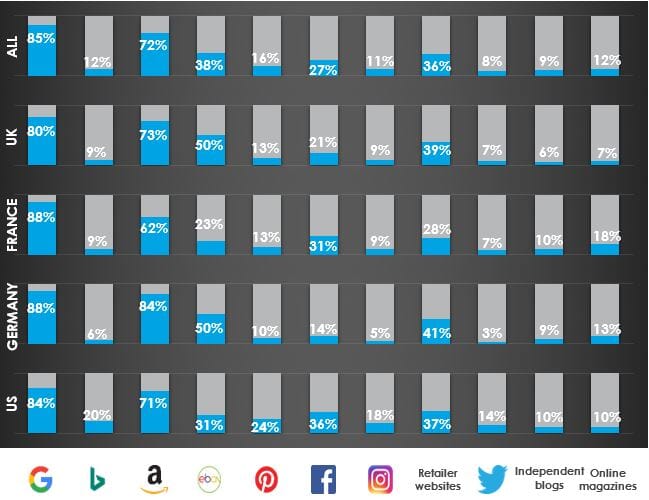 Which of these online sites are you likely to use to help you find product ideas and information before making a purchase?
Resolution POV
Search marketing runs the gamut from upper funnel awareness down to the most transactional of intents; a planning approach that unifies search engines and retail e-commerce platforms such as Amazon allows brands to approach the customer journey more holistically. It is important to note these five tips to manage search across intents:
Platforms can answer a wide range of shoppers' needs: For example, Google search may be viewed as upper funnel activity for CPGs except when local purchases can be measured through Google Purchases or Google Express.
Have a unified search strategy: Establish clear governance or map how different intents and keyword groupings should align across programs and co-ops. Amazon, for instance, may drive the strongest last-click ROI. Still, it's a mistake not to serve relevant content for the potentially millions of more searches done on the engines, even if sales attribution is a more challenging exercise. Having a comprehensive view of your search program can also allow for more streamlined, fluid shifts in media investment to allocate higher-performing channels, push product inventory, or align to larger marketing initiatives.
Search is a behaviour, not an advertising platform: On Amazon, where product sales heavily influence the A9 search algorithm, organic ranking can be influenced by paid activity. The opposite is just as important: a continuous focus on content optimisations on Amazon or the engines can significantly impact how people engage with your sites or your brand's content, and then whether they purchase.
Shared expertise and insights are key to holistically managing search: There are crucial differences in certain search platform's optimisation data points and best practices, but insight on search behaviour and keywords, product performance and messaging are among the few insights that can maximise performance across platforms.
Test new offerings: It may not be clear, for example, how voice assistants will factor into the daily shopping habits of people, or whether shopping searches will continue to shift towards Amazon, but it's important to strategically test in new environments, such as Amazon's Stores pages or Google's Product Placement Ads, where they are relevant to your business and can add value to your program.
Summary
Though Amazon has a growing influence on search behaviour, shoppers still use several platforms to find the answers they need. Those platforms, their offerings, and how users engage with them are constantly evolving and are complementary. It's crucial for brands to build a coordinated content and media plan to help their customers find what they're searching for.