The Resolution Digital's Foundation HSBC team has been awarded the gold award for the Global Client Partnership of the Year.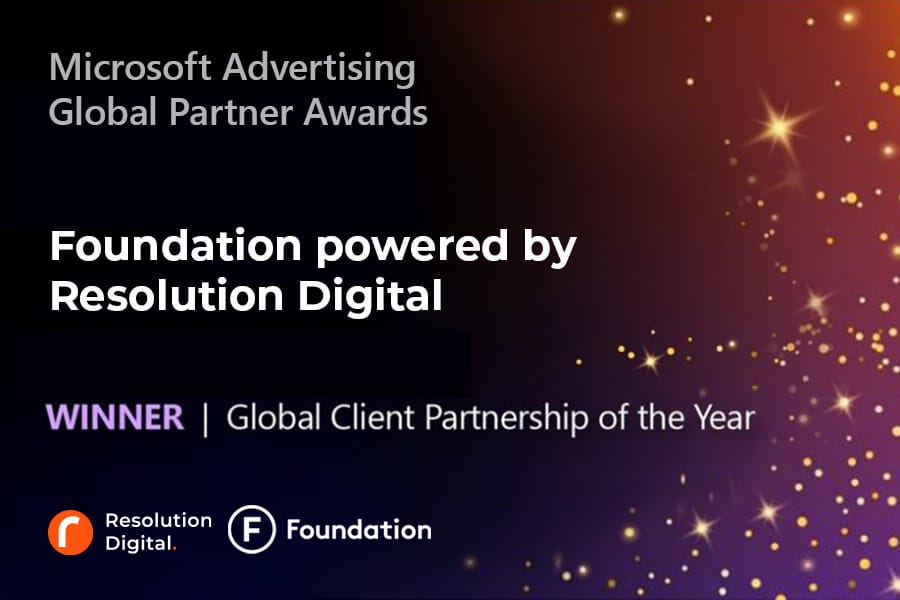 Following on from a successful APAC award ceremony for Resolution Digital, where the team won APAC Client Partnership Team of the Year with Foundation and HSBC, as well as the Microsoft APAC Agency Partner of the Year, Resolution Digital's team has also been crowned the Microsoft Global Client Partnership Team of the Year.
The awards recognise Microsoft Advertising Partners' contributions to the network and their clients, with the awards ceremony taking place at Elevate, Microsoft Advertising's annual Global Partner Summit on Wednesday, 27th April, 2022.
Resolution Digital's Foundation HSBC team was awarded Client Partnership Team of the Year. The award celebrates a client and partner who have shown excellence in their digital advertising campaigns, and take into consideration revenue, feature adoption, and overall collaboration in areas such as marketing, thought leadership, and insights.
Hayley Monteiro, Head of Activation at Resolution Digital commented:
"Winning this award globally is a massive achievement and a great testament to our collaboration with the Foundation HSBC team, along with our Microsoft Advertising team who have been such a pleasure to work with. I am absolutely stoked to share this win with my team and Foundation HSBC – it's like a dream come true."
Sean O'Connor, Director of International Marketing at Microsoft Advertising, said of the win:
"We were thrilled by the caliber of nominations we received this year. We are also honoured to celebrate and recognise our partners during the 2022 Microsoft Advertising Elevate Broadcast, showcasing how limitless they really are.
Microsoft Advertising is proud to award Resolution Digital with the Global Client Partnership Team of the Year."
Resolution Digital is a full-service digital agency, part of Omnicom Media Group Australia.
Learn more about our paid media products and services