The insights we glean from data only become useful when we can effectively communicate them to our audience, and most of the time, words alone just aren't enough.
Have you ever found yourself sitting at your desk, exhaustively sifting through each filter in your dataset, trying to extract every insight possible? You've spent hours poring over the data, only to look up and see your colleague spending their time populating a deck of slides with pretty content. You've probably thought to yourself that we'd be much more productive if they spent more time on the numbers and less time storyboarding. Right?
It pains me to say that I've been convinced that a well-put-together deck is one of the most powerful tools that we have in our arsenal to influence change and deliver messages. Meaningful dashboards and visualisation can help us persuade audiences to make decisions that otherwise would be unattainable. The truth is that the insights we draw from our data only become helpful when we can effectively communicate them to our audience, and most of the time, words alone just aren't enough.
For those who aren't convinced of this, I'd like to share my views on why I've learnt to appreciate the importance of taking the time to build a quality deck and how this can enhance the longevity of the content contained within.
First impressions matter.
Before I start, I want to clarify that I truly believe what's on the inside is the only thing that should matter. But we all know it's much easier to get people to want to see what's on the inside if we can show them that we've put in the effort.
As soon as we present our first slide, our audience is already judging:
Did we take the time to make sure our formatting is consistent?
Are there any spelling mistakes?
Did we care enough to align our tables?
Are the colours we've used painful to look at?
Did we use acronyms and abbreviations without an explanation?
We want our audience to focus solely on our content and the little things that allow us to build this engagement. It's much easier to deliver a message if we don't have to win our audience back. By putting the time into our deck, we show the value of the work that we've completed and how much we care about the message we're presenting. If our audience knows that we've put in the effort to deliver, then they will put in the effort to receive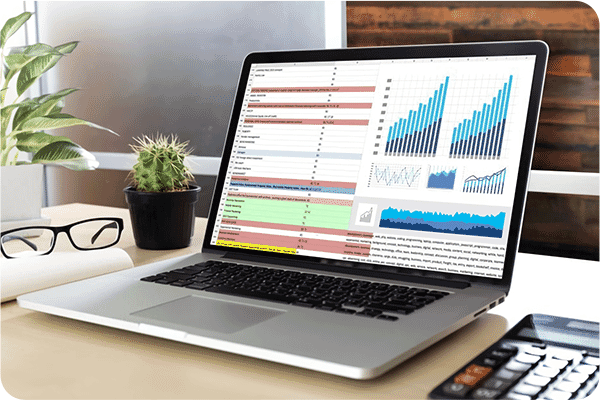 Dashboard
Your deck will go on without you.
We've been told time and time again that less is more and that our deck should be supplementary to our presentation. I'd have to disagree. In my experience, as time goes on no one will remember what's been said during a presentation regardless of how well it's been presented. The only tangible thing we have left is our deck and it's important to ensure that our audience can get everything they need from the slides within that deck. This not only saves time, but it also means that our content becomes more accessible and hence more valuable. Because the deck will often remain, the data within it must hold up to scrutiny over time. This means that you need to include all appropriate context and be sure that the data used is accurate. If in doubt, why not embed a live dashboard within your presentation?
Our aim when creating a deck should be to ensure that it can be understood and leveraged without presenting it. Our deck should be a vessel used to communicate, able to journey from inbox to inbox without losing its ability to be understood. To achieve this, we need to be intentional with the content we share and ensure that we don't underestimate the importance of having the necessary context. We should always ask ourselves when I send this over will the recipient be able to absorb the content without my help?
Give them what they want.
Lastly, we need to ensure that we clearly and concisely get our story across. Take the time to speak with your audience to learn what they want to know and why. It's important to understand what our audience wants to know and pre-empt the questions they might ask once they are given what they want. This is by far the most difficult outcome to achieve but also the most important, that's why for complex areas such as marketing technology we follow a structured MarTech discovery and audit process so that we fully understand the use cases, and the business impact that they will deliver.
I've found that the process of creating a deck is a great way to build out the story you want to tell. On many occasions, it has helped to identify what's needed to complete the picture for our audience and cement our understanding. Through storyboarding, we can ensure that we clearly understand why we are sharing our content with this audience, what we want the audience to feel and the actions they might decide to take post-review.
So next time you're sitting at your desk wondering why your colleague is spending so much time on those pretty presentations, just remember they're doing it to ensure that all the hard work you've put in can stand the test of a thousand email forwards.
How can we help you?
Spending time translating key insights into value for our clients is a key function of our consulting teams within Resolution Digital. In the pursuit of data democratisation, we do more than just provide access, we aim to understand your needs and how the data we have access to can be leveraged to meet those needs.
Driving insights into actionable results relies on collecting and translating the right data. If this is not something you already have readily available, then we can build beautiful and meaningful dashboards and offer MarTech solutions to enable you to understand more about your business.
We know our elements and principles of art and design, and we are focused on quality and want to ensure you get the most out of the content we share with you. To do this, we always ensure the foundational design principles are right so that you don't have to!
Learn more about our design, reporting and insights services
Need help driving insights into

actionable results

?