Agile Scrum is a lightweight framework that helps people generate value through adaptive solutions to complex projects and problems.
In an ever-evolving world, organisations are constantly required to adapt to new constraints and opportunities. Implementing an agile way of working is not something new, however, since the 1990's when empiricism and lean thinking collided with structure and deliberate effort, we were able to witness the adoption of Scrum come to the forefront and not just on the footy field!
Based on the core principles of experience, observation and a focus on what's essential allows for processes to be analysed and challenged. When done consistently this enables an organisation to iterate based on the team, the work being completed and the expectations of stakeholders, while maintaining the delivery of value.
It requires an environment to be fostered by Scrum Masters where:
Product

o

wners ensure the value of work being completed and order work into

p

roduct

b

acklogs.

The

d

evelopers then turn that selection of work into an increment of value by the end of a sprint.

The entire team and its stakeholders inspect the results and plan for the next sprint and increment.
Scrum is deliberate in language and action and seeks to define only what is required to provide a framework to teams.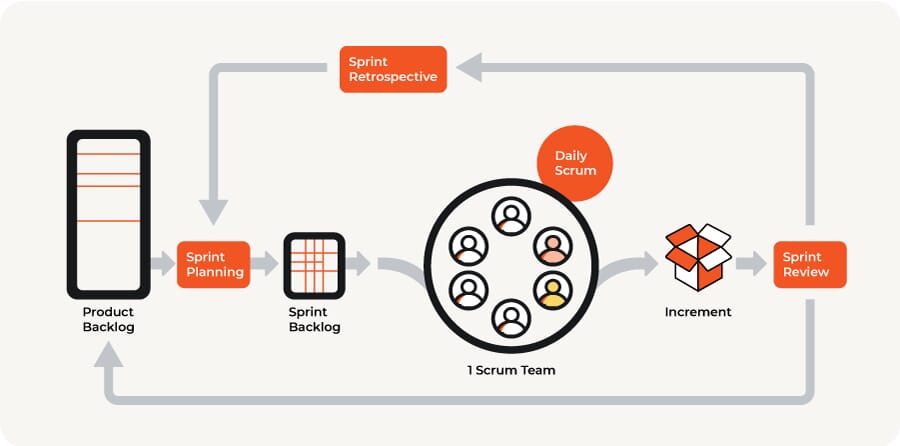 It's built on the collective intelligence of the people that use it and rather than providing detailed instructions, it guides interactions and thought.
Agile Scrum has traditionally been deployed for software development, however, we see organisations apply these frameworks to Digital Services and Marketing Technology agencies.
We have developed different ways of working based on the requirements of each specialist discipline. Over time as each team has grown and adapted, their ways of working have become unique and differentiated. To help unite our processes several of us were given the opportunity to become Scrum Masters, to champion this agile way of working and bring it to our teams.
Our Analytics Team Experience
Digital Analytics is one of our core organisational streams. It can involve analysis of an organisation's digital maturity, strategies of collecting, storing, activating and reporting on data as well as the connection of data throughout an organisation's marTech stack. It often can be broken into segmented stages and requires deliberate short-term planning with a long-term vision.
Currently, Analytics is at a pivotal moment with the deprecation of Universal Analytics next year. Strategising and collaborating on migrations to Google Analytics 4 (GA4) has been a critical piece of work that we have delivered throughout the last few months. With bespoke solutions, detailed requirements and a variety of projects being completed at any given moment it is crucial that progress is tracked and the deliverables are measured and reported on.
It requires an environment to be fostered by Scrum Masters where:
Bringing Scrum into this process has allowed us to define clear Marketing Technology strategies and roadmaps with set timelines and deliverables, ensuring all stakeholders are aligned and working towards shared goals. Scrum has further allowed us to consistently evaluate our processes and project steps so that we can improve upon them whilst also delivering key project milestones. As the team had already worked in a sprint format, bringing components of Scrum language and structure was a natural progression that allowed colleagues to share their feedback and suggestions regularly.
Through this implementation, the team is working as effectively as ever and is leading measurement solutions worldwide alongside our partners and clients. If you're interested in finding out more about the leading work done in the analytics team or looking to understand where you are in terms of digital maturity, ensure to check out web and analytics services and get in touch with our team of specialists.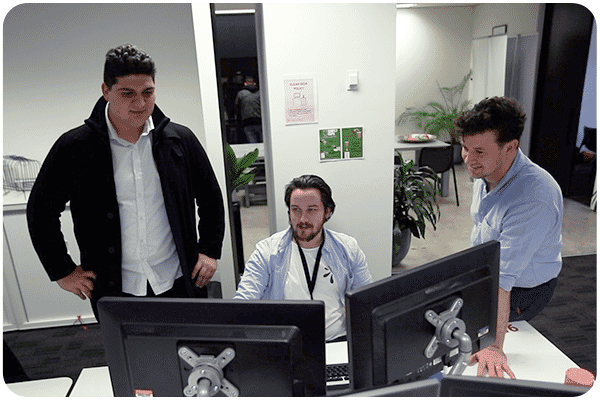 Our MarTech Experience
Our MarTech team is responsible for all offline sales integrations, customer data and technology audits, activating road maps and speaking fluent Salesforce. The team measures campaign performance, targets specific audiences and optimises for outcomes that matter to our clients. MarTech has the aim to attract and convert new customers, supercharge messaging and personalise across channels.
Working with an agile focus has enabled us to implement an incremental approach to project delivery across our MarTech team. This enables predictability in timelines and capacity, and can support the control of risks such as incorrect/failed match rates, incorrect data and pieces of analysis.
Operating in a way that supports a flat structure means the team comes together in a cohesive unit of professionals focused on a single goal, the Product Goal. Although Scrum is currently used within a stream structure, colleagues with the required skills to add value to each sprint are brought together and self-manage. What this means is that in our MarTech team we can act in nimble and effective teams with direct communication.
What we have experienced from a client perspective is that we have seen large pieces of work, for example, a large piece of analysis work, whilst simultaneously doing smaller pieces of work the client requests, all at a sustained and streamlined pace. Additionally, it has been able to be tailored to the needs of our clients making it more efficient to manage tasks and co-create value.
The implementation of Scrum processes requires a shift in the way of thinking, however, once implemented the return of value in terms of the performance of teams is extremely high. With one of our key clients in the hospitality sector, the process has empowered our team with a sense of achievement, positive and consistent feedback loops and ownership of the work completed. Further, it has allowed for quick reactions to changing requirements and constraints, and with a sense of urgency enabled us to maintain velocity and focus. The deliberate and segmented milestones build up continuous momentum.
Key Takeaways
For those of you that are considering more agile ways of working we have a few key takeaways for you:
Changing the way a team works can be challenging, especially when teams naturally find their rhythm over time. We recommend implementing components of agile over time, starting with aspects that deliver a lot of value back to the team immediately such as retrospectives.

Agile helps in the allocation of resources and tasks, and can help break down complex projects into deliverable increments, which can be used to deliver long-term projects, such as migrating technologies that are being deprecated!

Working together will always get you further, finding ways to analyse ways of working between projects and teams will only improve the value to all stakeholders.
Scrum is a great way to assist the structure of work processes. Over the next few months we will see more of our colleagues become Scrum Masters and champion agile ways of working. We look forward to sharing this with our partner agencies and clients.

Learn more about our MarTech Services
Ready to adopt an agile approach and drive growth for your business?