Regulatory changes to data privacy are having an impact on advertising strategies. To continue learning about your customer journey, a good option is server-side tagging.
We live in a world powered by data. Everything we do on the internet generates data; from the shopping sites we visit to the social media platforms we use. All that data is useful for marketers as it helps to determine the forms of approach that work, those that don't, the campaigns that are succeeding, and those that are failing. By harvesting and analysing that data, marketers can tell their CMO where to allocate the budget and how an ongoing campaign could be tweaked for success.
What is server-side tagging and how does it work?


We'll start with the basics. A "tag" is a script placed on your website that "fires" when a visitor takes a specific action. Information is collected and sent back to the tag's platform. In the past, the tag (think pixel) has been implemented from third-party ad platforms, which then relay data to your platform to be analysed. These tags create cookies, track interactions and send them back to you. Unfortunately, those third-party cookies are being phased out.

Server-side tagging still involves tags, but it's a single script on a site you own, that relays data either to your server or into your cloud without involving any third parties. You receive all the data, and decide what gets passed on to your marketing platforms. You also have free choice over what data gets fed to your advertising platform algorithms.

Put simply, you have complete control.
Server-side tagging vs client-side tagging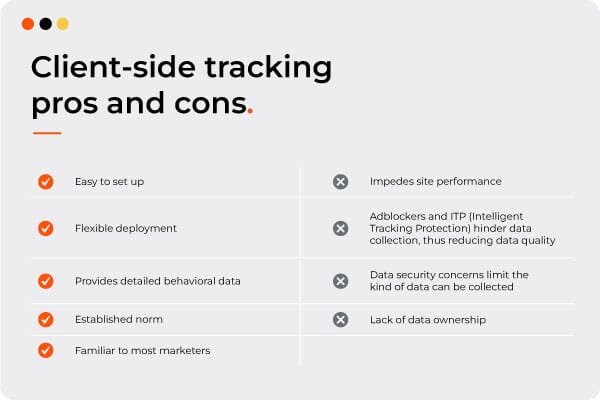 Client-side tagging is the old way of doing things, as we described above. It's still in common use, but it's already less effective than it was last year, and when Google Chrome phases out third-party cookies by the H2 2024 which is the current Google promise, it will be redundant. That alone is reason enough to switch to server-side tagging now and get ahead of the move, but here are a few more facts that you should consider:
Between 30% and 60% of all tracking data is already being lost to a combination of bad configuration, ad-blocking software, and intelligent tracking prevention.
Client-side tagging slows down page-loading speeds, which increases bounce rate.
Data collected via client-side tracking isn't protected.
Client-side tracking attempts have low ad-block resistance.
Client-side tracking means receiving only the data the third-party cookies want to send you - not the data you truly want.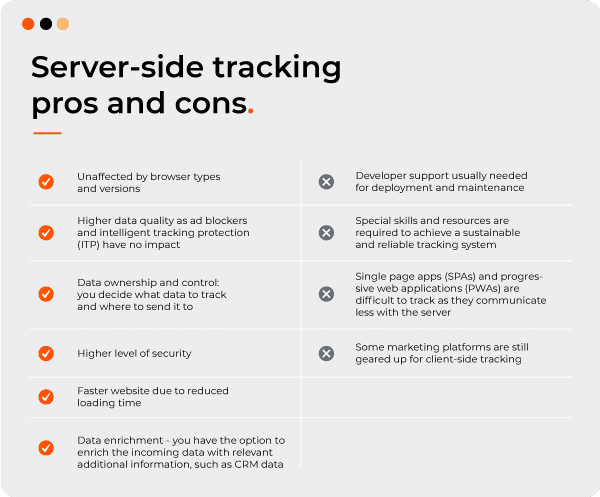 Server-side tagging may in some cases, be more expensive to implement and more costly to set up, but the benefits comfortably outweigh the costs. There will likely be an increase to these costs at the end of H2 2024 when marketing companies that have been slow to implement changes attempt to switch in droves.
Which platforms support server-side tagging?

The good news is that there are already several big-name platforms and companies providing server-side tracking products and support. You won't be surprised to hear that Facebook is one of them.



Facebook CAPI
,

also known as Conversions API, is a business tool attached to Facebook that allows advertisers to share customer actions directly to Facebook from their servers. Facebook CAPI works hand in hand with Facebook pixel to deliver better data collection, superior measurement and better advertising performance to marketers and companies that work with the brand.

Google Tag Manager provides safe and easy access to analytics and measurement tools through a web-based user interface, giving your website or app direct access to the Tag Manager servers. The interface allows users to set up their own tags and calibrate their own triggers, giving you full control over the events to which you wish to be notified. Google's Tag Manager container is designed to replace every other tag on any site or app, including even those that come from Google Ads and Google Analytics.

Tealium IQ Tag Management is also emerging as a potential market leader when it comes to server-side tagging. As of May 2022, it claims to power more digital experiences than any other enterprise tag management provider on the internet. This bespoke product allows organisations to manage and control customer data across the web, mobile, and any other IoT device and provides more than 1300 turnkey vendor integrations through both tags and APIs. The power to deploy and manage tags is placed into your hands.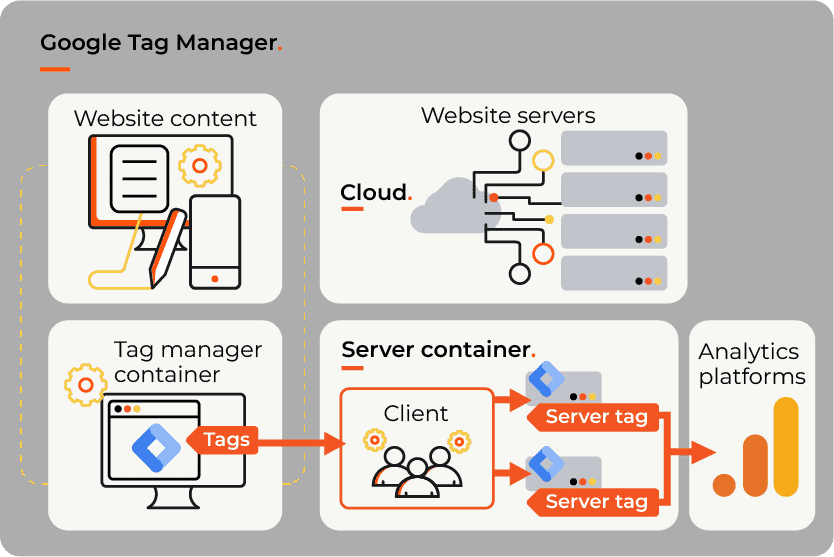 Should you adopt server-side tagging?



There are different server-side solutions available in the market; determining the best fit for your business and marketing strategy is critical.

Also, technical knowledge is required to set up the server-side solution and establish the data foundation that simplifies the process of defining and accessing data.

Resolution Digital is a Google Marketing Platform Certified Partner, offering a full suite of Google Tag Manager Services and our experts are here to assist you with implementation, strategy, and to bring the right tools to help achieve your business goals.
Learn about our Digital Measurement services.
Are you ready to start implementing

server side tagging

?