What's behind the ChatGPT hype? And how can we use it to our advantage, especially for better customer experience and service?
What's the core behind the massive AI related hype? And how can you leverage the strength of ChatGPT to your advantage, especially to shape and nurture your customer experience and service.
In the first quarter of 2023, it's been hard to avoid discussions about ChatGPT and other Large Language Models (LLM's). The internet has been awash with a litany of predictions, concerns, and excitement surrounding its capabilities. It is somewhat ironic, that a LLM with access to 175 billion parameters and 300 billion words has managed to generate so much content for itself in such a short amount of time.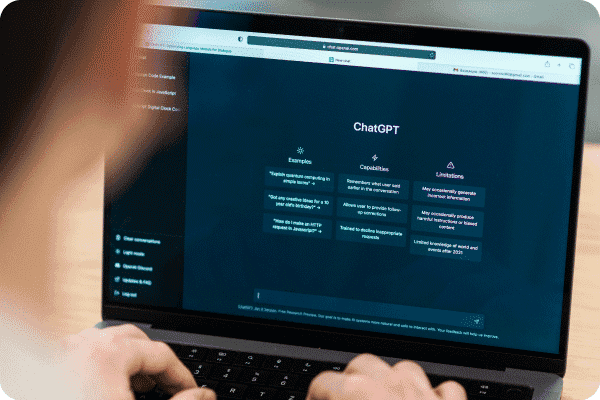 One of the key discussions within the marketing industry around ChatGPT has been around its credibility. There have been many examples of the tool presenting incorrect content as facts quite convincingly. In the rush to implementing ChatGPT into some organisations and scale alongside it, many have been hesitant, with the natural inclination to protect themselves from these issues, with many opting for hesitancy.

There has already been reams of non-GPT created content attempting to litigate ChatGPT's perceived flaws. While this is an important discussion, it is worth noting that the tool will only become more powerful with the launch of GTP-4 (which has increased computing power and parameters).
GPT-4 has only been on the market a matter of days and has already re-invented the game Pong and has passed the Uniform Bar exam in the 90th percentile. With its release and amazing power, many organisations are beginning to tussle with the reality of implementation of this LLM into their technological stack.
Global consulting firm Bain & Company recently announced a partnership with OpenAI, and we can soon expect ChatGPT to take a large part of their management consultancy. Ark Invest, an investment management firm, in its 2023 trends report outlined that it forecasted that Generative AI could lead to a 10-fold increase in coding productivity.
Sooner or later, we will need to think about the way we can utilise this, not just as a fun entertaining tool to write our Christmas cards, but also as a tool that has the capacity to help with our day-to-day tasks and make business more efficient. It may be able to improve the very way businesses interact with their client base and the way customers interact with their digital touchpoints.
As a business, it is essential to understand the impact that ChatGPT can have on customer expectations and your operations. At the heart of the technology, we know it can 'talk' and 'talk back'. We know ChatGPT can understand natural language, remember previous interactions, and learn from customer feedback to offer better responses. It is also good at synthesising, summarising, and expanding text and fetching you a plausible answer to generate its response. But imagine what you can do if you have your own industry vertical knowledge and dataset to train for your own business purpose.
With the focus on the customer service and experience innovation, one way to leverage ChatGPT is to use its available APIs to create your own product. These APIs can be used to integrate ChatGPT into your existing product ecosystem or create new products that utilise its capabilities. For example, imagine you have a travel agent product, there is a customer who would like an experience that's similar to visiting Switzerland but at a much cheaper budget. Your own AI tool could theoretically provide personalised alternative recommendations based on the customer's preferences, price comparison and previous user feedback that is readily available online or in your database. That will save many hours of effort for both your customers and real-life travel agents and improve the service quality and scalability.
The decision matrix below can help you determine how to leverage human and AI involvement in each service or operational area. The low-risk and low-empathy domain is where you can immediately automate with a relatively smaller hurdle. The high-risk and low-empathy domain is where humans still perform the core role, while you can automate some of the interfaces with the machine. In the low-risk with high-empathy domain, the vice versa is true, where humans still play a great role in the interface and interaction layer. Lastly, the high-risk and high-empathy domain will be the most challenging part that you can forecast, but we believe that finding the balance between the human and AI role should be the key success factor in this domain.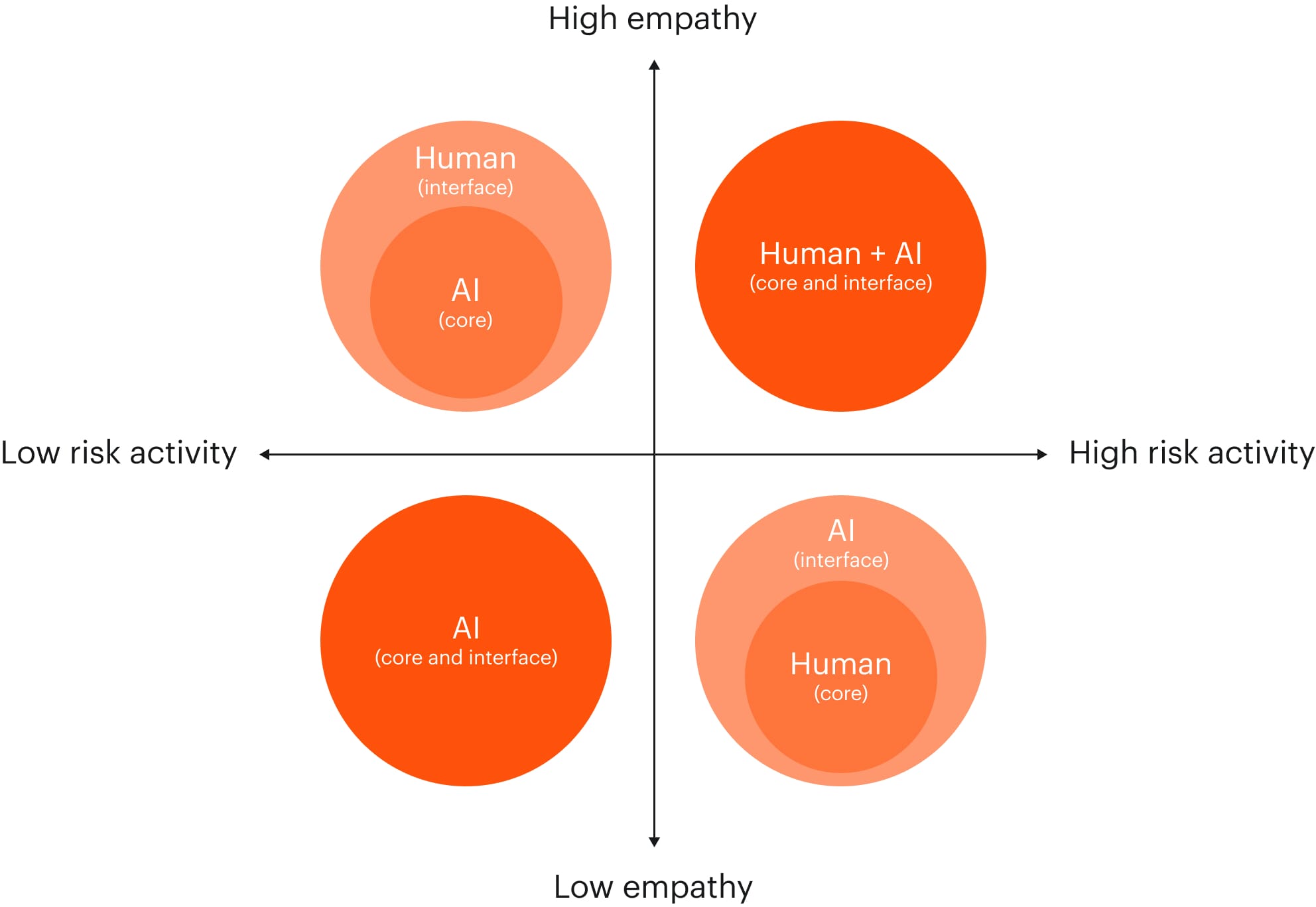 There are quite a lot of leading chatbot solutions that have operationalised the smart features of OpenAI. Chatbots can handle repetitive tasks and queries, freeing up your team's time to focus on more complex and strategic tasks. ChatGPT can be used to power these chatbots, allowing them to understand customer queries and provide quick and accurate responses.
You can also ask it to write an FAQ response based on the actual user's feedback and queries. One key thing to note is that it is important to monitor these responses closely, to fine tune them and determine the confidence rate of your chatbot.
This can significantly improve customer satisfaction and reduce the workload on your team.
ChatGPT and other LLM's have the potential to create significant value for businesses if you understand their strengths and limitations. Knowing your customer's problems and your business deeply enough to identify which interactions and workflows can significantly be improved by the technology. Utilising the vertical knowledge and dialogue offered by ChatGPT can be a game-changer for businesses looking to improve their customer interactions.
By leveraging the technology in the context of your knowledge about the customers and balancing it with the actual human touch, businesses can create personalised experiences that are efficient, feels real and improve customer satisfaction while also optimising the productivity within a business.
Learn more about our Digital Marketing services
Let our

experts

help you determine how you can best utilise the technology to maximise its benefits.