Kontent.ai is a headless CMS, which was first introduced into the marketplace by Kentico Software. Now, it's independently operational, and a CMS that is well worth considering when choosing a headless CMS.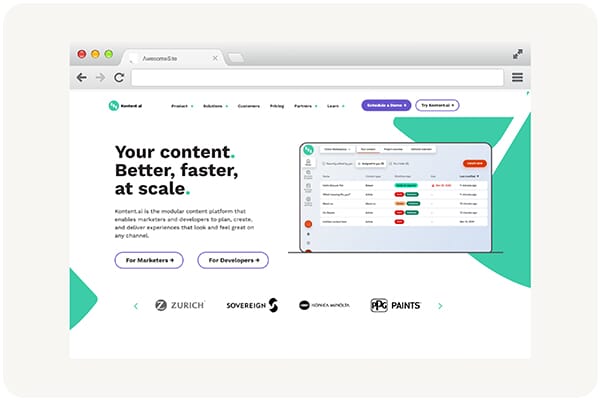 Firstly, what is a headless CMS?
A headless CMS (Content Management System) is a content management system that allows users to manage and organise content without a predetermined front-end system or presentation layer.
Unlike a traditional CMS, the content and presentation are tightly coupled, meaning that the CMS controls both the back-end content management and the front-end presentation of that content. With a headless CMS, the content is managed separately from its presentation, allowing developers to use their preferred front-end technology, such as a website or mobile app, to display the content.
In a headless CMS architecture, the content is stored in a content repository and made available through APIs (Application Programming Interfaces), which can be used to display the content on different devices and platforms. This approach allows for greater flexibility, scalability, and customisation in the presentation layer.
What is Kontent.ai?
Kentico Software is a leading provider of digital experience and headless solutions. It recently rebranded its experience platform to Kentico Xperience 13 and its CMS platform from Kentico Cloud to Kontent.ai.
With this rebranding, Kontent.ai has evolved from a traditional CMS to a headless CMS, marking its complete transition to content as a service (CaaS). As of 1 July 2022, Kontent.ai is its own company, separate from Kentico Software.
The benefits of a headless CMS
As a headless CMS, Kontent.ai unifies content across all teams within an organisation without the limitation of silos and legacy technologies; meaning it's built for managing content at scale. Flexible content models, collaboration and workflow mean developers are free to utilise their favourite technologies while content teams can focus on winning content, without the restrictions of formatting and templates for specific designs or devices.
By choosing Kontent.ai as your headless CMS, your organisation will have access to a fully integrated CMS, that offers control over your entire content lifecycle with a consistent, personalised end-to-end journey for audiences from every digital touchpoint.
The right content is delivered to the right visitor using granular categorisations, global content delivery and flexible integrations. Contextually relevant information can include personalised CTAs, product details or blogs.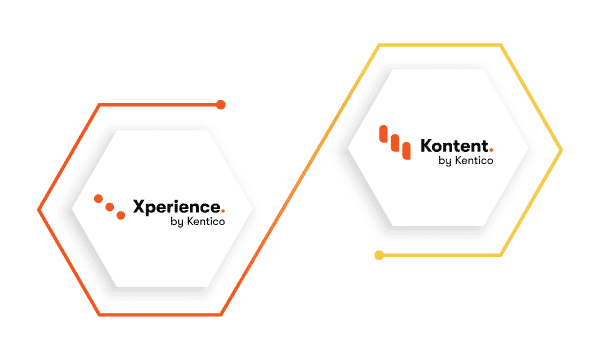 Choosing between Kentico Xperience and Kontent.ai
As a marketer or IT professional, how do you know which one of these products is best suited to your needs? The choice between Kentico Xperience 13 and Kontent.ai comes down to whether you want a traditional, unified Digital Experience Platform (DXP) or a headless CMS.
As they are not mutually exclusive products, we'll assess their tools for managing content in different contexts.
Kentico Xperience 13 is a highly customisable, multi-functional .NET development platform attractive to website-producing middle-market customers, while Kontent.ai is a powerful cloud service delivering bespoke, multi-channel content via APIs.
Key features and benefits of Kontent.ai
User-friendly for non-technical users. Project timelines are fast tracked as all team members can work on a project simultaneously, rather than one being dependent on another, as with traditional CMS.
All pricing plans come with responsive customer support.
Fast data transfer in both directions.
Intelligent and feature-rich content editing. Create the presentation layer of your digital experience with any programming language and tools, extending development options beyond the .NET.
An efficient and cost-effective way to run a POC. Content can be managed from a single source of content and delivered across multiple channels – including internet enable devices, websites, mobile applications and touchscreens. Content no longer needs to be duplicated and reformatted for use beyond a single channel.
Kontent.ai is the modular content platform used mainly by large, global organisations with complex content governance. These organisations want the content-first approach of easy content production and reuse, and allows marketers and developers real-time opportunities for collaboration and approvals.
Freedom is key - this headless CMS gives developers the flexibility to work with the MarTech stack of their choice. This easy-to-use platform delivers content that's engaging, optimised and consistent, from planning to execution.
Learn more about our DXP related services
Talk to us to learn more about Kontent

.ai