The smartest way to get on top of these challenges during the COVID-19 crisis, is to take advantage of the most relevant eCommerce opportunities for your brand.
The increasingly drastic measures of self-isolation and social distancing have made the challenges for brands and retailers more complex. In particular, COVID-19 has caused a significant decline in visits to brick and mortar stores.

The smartest way to get on top of these challenges is to take advantage of the most relevant eCommerce opportunities for your brand.

What is the potential for eCommerce growth?
Retail brands globally are shifting to accommodate the number of consumers shopping online vs in-store. eCommerce solutions offer a huge opportunity for retailers to thrive while mitigating the loss of footfall sales and subsequent reduction in marketing spend.
This eMarketer graph shows FMCG eCommerce sales growth during February 2020, as compared to the same period in 2019.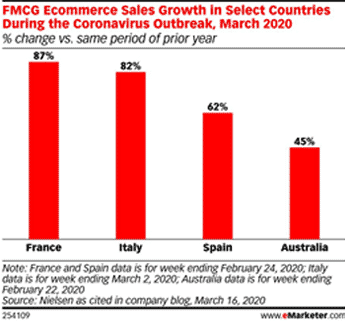 The top two benefits of eCommerce during COVID-19

There are two key reasons why eCommerce has the ability to reinforce a struggling retail brand including:
The digital shelf: In times where empty in-store shelves are becoming the norm, eCommerce triumphs with a hypothetically 'endless digital shelf'.

The digital shelf reduces alarm and panic buying or over-stocking items. A cohesive eCommerce strategy can help you see a clear picture of your current share of digital shelf and how to secure more.

Be extremely mindful however, of the potentially massive strain on supply chains during COVID-19. If order fulfilment becomes challenging it could have a significant impact on customer experience and overall brand trust.

Increased safety and convenience: Social distancing has increased people's need for safety and convenience.

eCommerce allows brands to accommodate both needs and we have seen this manifest in China with a massive focus on end-to-end, contactless solutions. McDonald's, Starbucks and Alibaba have ramped up efforts to ensure the safety of both their workers and their customers.

Whether it's click and collect or online delivery, it's crucial to look at methods of offering contactless interactions.

Four ways to harness the power (and safety) of eCommerce
This massive shift in shopping habits will continue post COVID-19. Plus, we expect the share of online sales to settle at a much higher rate compared to pre-COVID-19 in Australia. With this in mind let's review four powerful opportunities available to brands:
1. Conversion Rate Optimisation (CRO): A strong tactic for delivering a frictionless shopping experience to your customers.
On-site customer experience is now a key consideration for Direct to Consumer (D2C) brands and retailers. The goal is to allow for quick and easy checkout. This not only results in a better experience but also reduces the load on website infrastructure that now needs to cope with higher than usual demand.
At the heart of CRO is A/B testing which allows you to test hypotheses and serve alternative content to your customers without the need to go through development or CMS teams. This will speed up ongoing COVID-19 updates and be more cost-effective.
On-top of all of this, whilst the COVID-19 pandemic is serious, it is also temporary. CRO enables you to easily switch off content changes when the pandemic is over.
2. Optimise and promote your products: The increase in eCommerce sales due to COVID-19 gives you the chance to increase your online sales. But, this is conditioned on the visibility of your products.
Optimise your product content for highly searched keywords based on consumer demand. This tactic will increase your product visibility against competitors for category level pages and on-site searches on retailer websites.
On certain retailer sites such as Coles, Woolworths, Dan Murphy's and BWS, there is a capability to sponsor your products. CitrusAd enables this as a self-serve platform. For our clients who have been using CitrusAd on Dan Murphy's, we have observed an increase in ROAS by 3x-5x on average.
If you are in a highly competitive vertical, we recommend having a paid strategy using CitrusAd on these sites.
3. Sell on an established marketplace: eBay and Amazon are the two major marketplaces. They:
Enable brands and resellers to easily market products to primed online shoppers
Have a loyal and actively engaged customer base with high purchase intent
You can optimise your products (using A+ content on Amazon driven by their A9 algorithm) to ensure they rank well in organic search results. If you sell products across multiple categories, you can even drive customers to relevant landing pages with an Amazon Store.
Our clients on marketplaces have seen an exponential increase in demand and sales since COVID-19 with one client getting more than 3 times their Xmas sales in March.
4. Take a Direct to Consumer approach: This approach is not suitable for every brand. But, where a D2C channel is viable, now is the perfect time to fast track the roll out given the on-going focus on community health.
The top benefits include:
Higher margins
More control over the customer experience
Access to first party data
Depending on the number of SKUs sold and current supply chain capabilities, the right size solution will ensure your brand's venture is both profitable and delivers a great customer experience.
If your website contains a catalogue of product information you can quickly make your website shoppable with a solution like Shopify, Squarespace or Magneto. For example, Shopify, a quick-to-market off-the-shelf solution, can be set up for 20 SKUs in a matter of days. You can also test and learn if you need to build a business case first.
Ensure the success of your D2C approach by:
Focusing on the consumer and their journey
Using segmentation techniques for a tailored, relevant experience
Ensuring your paid and social channels are driving consistent messaging to the landing page
Making sure your calls to action across different channels focuses on online sales
Serving shoppable ads on social and other channels where possible
Take advantage of Google Shopping campaigns using Merchant Centre
Depending on your brand's vertical, you can increase online sales with a well-rounded eCommerce and marketing strategy that focuses on:
Staff and customer safety and satisfaction
Optimising your organic share of digital shelf
Learnings from global markets

With eCommerce in Australia set to experience continued growth throughout 2020 and beyond, now is the perfect opportunity to leverage the 'new normal' for consumer shopping habits.

This article was published in Adnews.
Learn more about our eCommerce SEO services
Contact us to discover how we can deliver Remarkable results for you.