Executive Summary Facebook has announced that it is shutting down its desktop ad exchange, FBX, on November 1 2016. Advertisers presently using a DSP plus FBX to execute retargeting strategies will need to migrate their campaigns to Facebook's Dynamic Product Ads...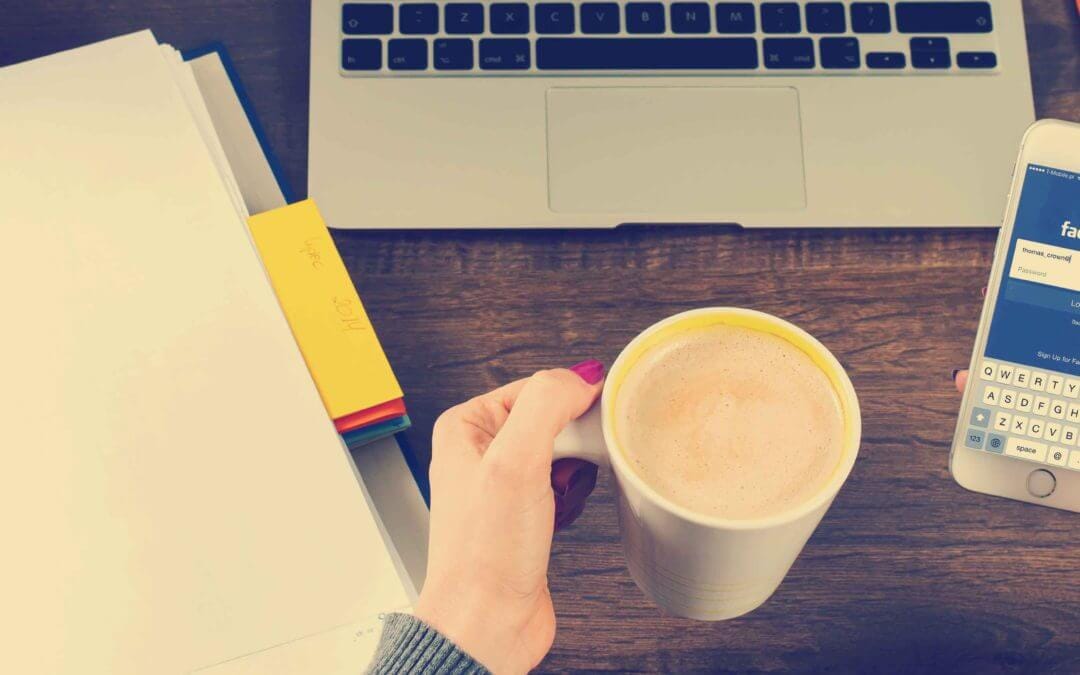 Executive Summary
Facebook has announced that it is shutting down its desktop ad exchange, FBX, on November 1 2016. Advertisers presently using a DSP plus FBX to execute retargeting strategies will need to migrate their campaigns to Facebook's Dynamic Product Ads offering and buy this media through the Facebook Ads API through managed service providers like Resolution Media.
The important thing for advertisers to understand is that this change does not represent a diminution of their ability to retarget users on Facebook with dynamic ads. Facebook rolled out support for retargeting through the Ads API in January 2014 with the launch of Website Custom Audiences, and began supporting dynamic creative in February 2015 when they released Dynamic Product Ads (DPA). The great advantage for advertisers in migrating from FBX to DPA is gaining access to mobile inventory: FBX was always limited to desktop ad placements, while over 90% of Facebook ad inventory is mobile. Resolution Media has been a leader in leveraging DPA to deliver results for our clients.
The Backstory and Display Ecosystem Fundamentals
Facebook's move to shut down FBX is a declaration of victory in its long war against the pre-existing display ad technology stack. They are now fully independent of the world of exchange-traded, cookie based media. Advertisers who want Facebook inventory now have no choice but to play inside of the social networking giant's walled garden.
When Facebook launched FBX in 2012, it allowed advertisers to access Facebook inventory through Demand Side Platforms (DSPs) for the first time. DSPs serve as cross-web bidding systems, allowing media buyers to buy across multiple websites at once. The benefit for publishers and website owners in connecting their inventory to these systems is that they don't have to worry about pricing or maintaining a sales organisation: DSPs use real-time bidding (RTB) to auction off impressions as users arrive on a page. The highest bidder wins the auction, and after the DSP takes its cut the publisher receives payment for the ad.
DSPs offer many benefits for buyers and sellers, but they are not without drawbacks. First among them is the commodification of ad inventory that is a precondition for the system's success. The Interactive Advertising Board (IAB) defined a set of standard ad formats which publishers are encouraged to adopt in order to participate in as many auctions as possible. That can make it challenging for publishers to implement native, high-impact ad units and still clear their inventory.
The second major deficiency is the deflationary pressure created by the incentive structure. It's in the interest of each individual publisher to maximise their ad load: the more ad space they have to sell, the more money they can make! Given stable dollar demand for this inventory, a rapidly increasing supply has led to downward price movement. CPMs in the $0.50 range are not uncommon for programmatically sold display inventory, versus $10 or more for directly sold inventory. This downward price movement has in turn led publishers to steadily increase their ad loads to keep revenues stable, creating a vicious circle for site user experiences.
Why did Facebook Make FBX in the First Place, Then?
When Facebook launched its native ads API in 2011, the company's ability to convince advertisers to play within its ecosystem was very much in question; it was unclear whether or not Facebook would need to rely on DSPs in order to sell through its ad inventory. Facebook also had another problem: some of the most effective online advertising strategies, retargeting (serving an ad for a specific item a person has viewed), requires an ad technology stack that can dynamically map ad images and copy to product pages a person has visited. This capability is called dynamic creative. In 2012, when FBX launched, Facebook's native ad products did not support this functionality.
By creating FBX, Facebook addressed two problems at once. First, exposing a portion of Facebook's inventory to DSPs ensured that the company could monetise even if the market proved unwilling to use Facebook's native ads API. Second, by integrating with DSPs Facebook could take advantage of their support for dynamic creative, ensuring Facebook would capture its share of advertisers' retargeting dollars.
The Path Forward For Advertisers
In the four years since the launch of FBX, Facebook has closed the technology gap with DSPs by introducing Website Custom Audiences and Dynamic Product Ads. Now, advertisers are able to run retargeting campaigns on Facebook without needing to turn to a DSP. Even better, they are able to retarget users on mobile!
Advertisers who are still running FBX buys have a clear migration path: by uploading a product catalog and implementing the Facebook pixel, advertisers can continue to execute retargeting campaigns with the added advantage of mobile inventory and more ad products. Resolution Media has been using Dynamic Product Ads at scale for some of the world's biggest advertisers since the feature launched early in 2015. For more detail on the differences between what is available through the Facebook Ads API versus FBX, see the table below:
Facebook Ads API vs FBX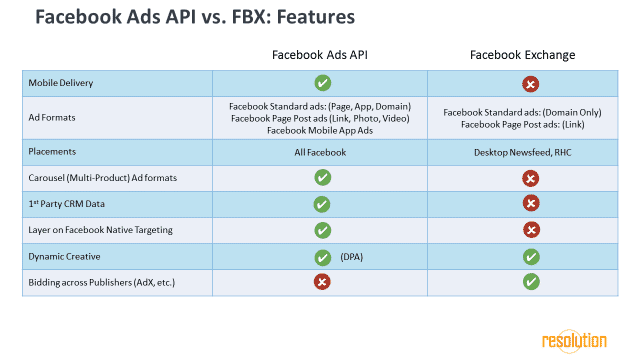 Conclusion
FBX is a legacy of a time when Facebook's strategic position was much less assured, a holdover from a time period where auction-based display advertising was funneled almost entirely through DSPs, and the prospects of a walled-garden approach were uncertain. Now in 2016, Facebook has long since finished proving out the model with over 90% of its ad inventory on mobile and sold directly through its ads API. Advertisers have embraced the "people-not-cookies" targeting message, and the effectiveness of mobile newsfeed ads has been established.
For advertisers who are still running FBX media, a partner like Resolution Media can provide migration support and ad operations expertise. At the same time, advertisers can expect that expanding their retargeting efforts on Facebook to mobile inventory will yield significant performance improvements. The shutdown of FBX heralds the opening of a new chapter in the game of ecosystems that is reshaping the digital advertising space.
Contact us to discover how we can deliver Remarkable results for you.