Forrester has named OMG a leader for representing the future of media investment and management through the strength of its current offerings and global scale.
At Resolution Digital we deliver remarkable results for our clients by constantly pushing the boundaries of innovative marketing solutions that put our clients in front of consumers in the most impactful and efficient ways.
It is for this reason that we are especially proud of the fact that as part of Omnicom Media Group (OMG) we share in the accolade of OMG being crowned a leader in, The Forrester Wave: Global Media Management Services Q3 2022.
To be recognised as a 'Leader' is an acknowledgement of OMG's future-forward capabilities in integrating disciplines, audience segmentation and the technology to power media strategy, planning and activation.
Forrester concluded that,
"OMG's strength lies in initiatives to innovate its Omni portal, such as customised client workflow integrations, audience data integrations; marketing automation partnerships with Google; and efforts to unite media, e-commerce, and shopper tactics."
With every one of Resolution Digital's employees having access to Omni portal, we have empowered each person in our team with advanced audience insights, media planning and orchestration tools that make them more efficient and our marketing programs more effective.
OMG's innovative work in Attention research was highlighted noting that OMG "scales consumer empathy and understanding into quantifiable attention metrics against which advertisers can plan, buy, and measure. To achieve this vision, the company deploys its Omni audience planning portal to power better audience, client, and employee experiences."
Des Odell, CEO of Resolution Digital explains,
"CMOs are constantly challenged to evolve their marketing in ways that deliver remarkable results. By combining brand and performance, experience, and insights with media, we are pushing the boundaries of media campaigns to deliver on the complete user journey."
The Forrester Wave report aims to help Chief Marketing Officers (CMOs) understand media trends and the role of integration in partner selection. The report evaluated 10 holding-company-level media resources against 17 criteria, and placed them in one of four categories: Leaders, Strong Performers, Contenders or Challengers.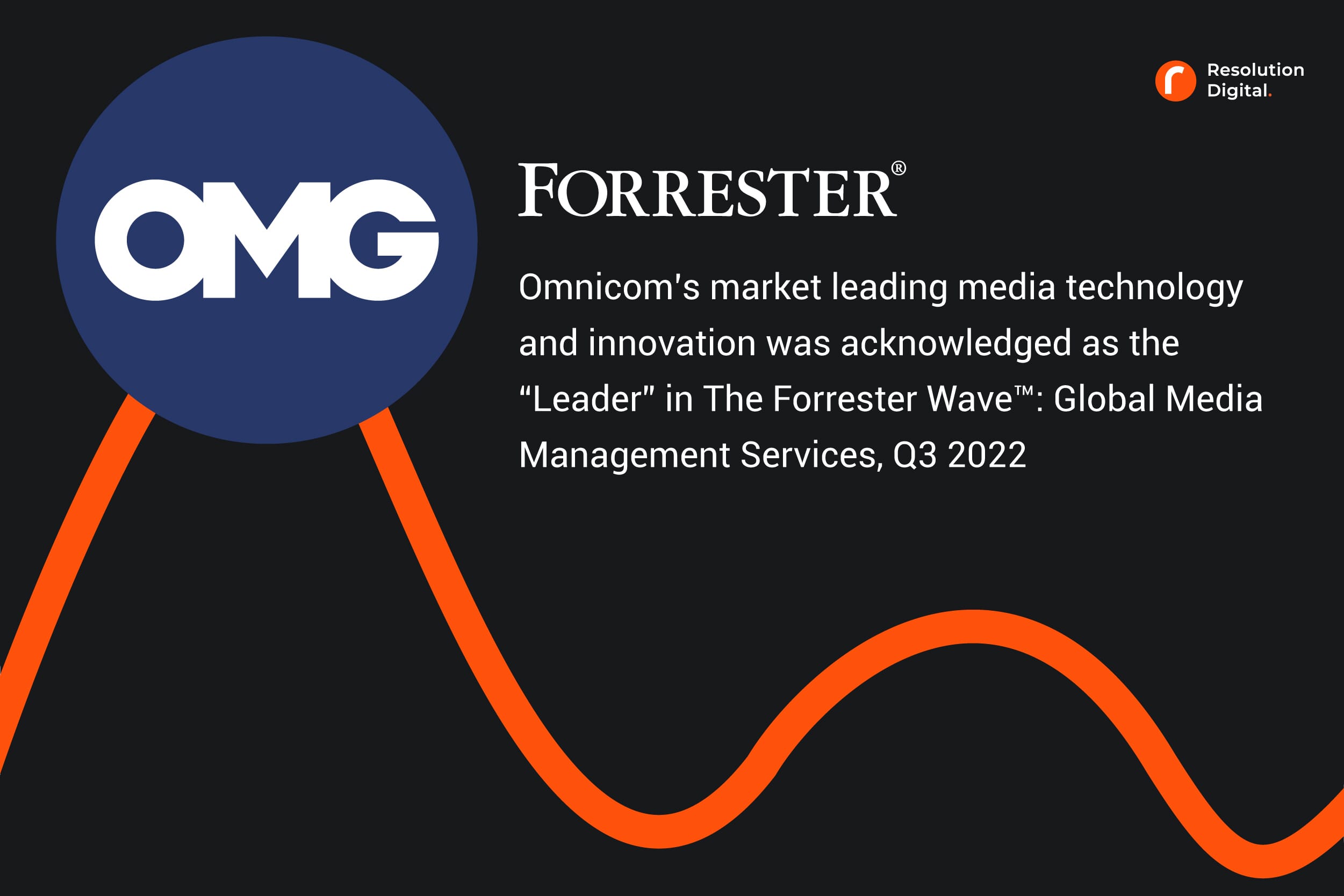 Omnicom Media Group (OMG) received the highest possible scores in all six areas:
Operations

Innovation Road Map
The impact of the independent Forrester report can't be underestimated. Having an objective industry research report, from which clients can compare different agencies, is essential for the establishment of dynamic and profitable media partnerships. OMG will continue to provide clients with the transparency and innovative technologies that place them at the top of their field.
Read the full Forrester report here for their comprehensive and objective take.
Resolution Digital makes extensive use of the market-leading tools highlighted in the Forrester Report to form deeper audience insights and compile effective media strategies and plans.
Get in touch if you want to learn more about Omni or speak to one of our digital strategists about how we can put our advanced tools to use to help you realise remarkable results.
Find out more about our related services.
Explore how we can help you with your

digital marketing

needs