For an international website, several things need to be considered when deciding on a domain / domain strategy.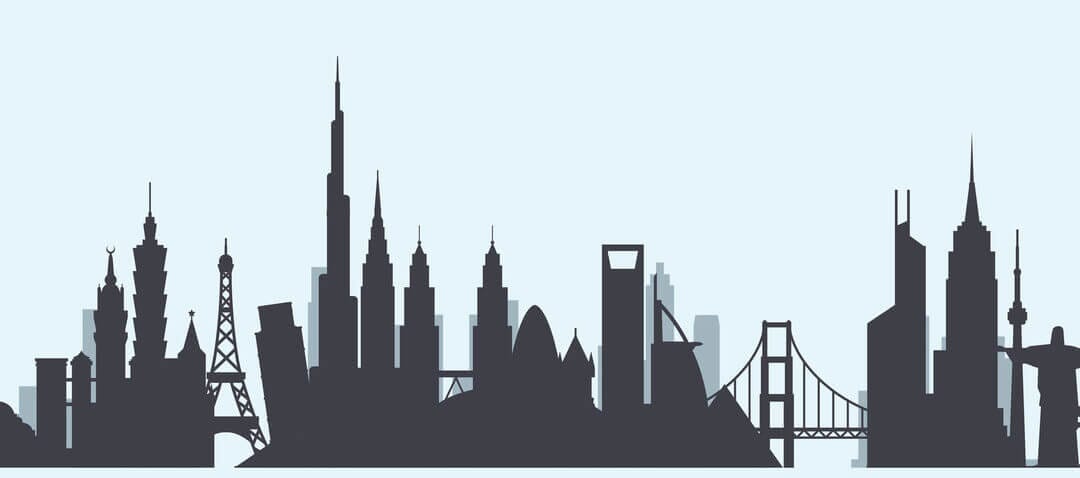 Different domain types have different effects on Google, and different actions are required for each of them to ensure an SEO friendly targeting of the different markets.
It should be noted that this document only outlines the international SEO approach for domains and folders, and does not encompass all relevant components that influence rankings on a global scale.
Types of Top Level Domains (TLD's)
Geo targeting means targeting a domain (or certain area of a domain) to a specific geographic region (country).
In general, there are 2 types of domains, 'Generic Top Level Domain' (gTLD) and 'Country Code Top Level Domain' (ccTLD), with 'Top Level Domain' referring to the domain ending, such as .com.au, .com, .co.uk, etc.
Generic Top Level Domain (gTLD)
gTLDs are country unspecific, which means they are listed in every search engine worldwide, provided it meets the search engine's relevance criteria. Examples for generic Top Level domains are
.com | .org | .net | .info | …
All domain endings that are not ccTLDs are generally treated as generic domains, including domain endings like
.asia | .london | .guru | .how | .brand | …
Country Code Top Level Domain (ccTLD)
ccTLDs are country specific, which makes them appear primarily in the country specified in the domain ending. Examples for Country Code Top Level Domains are
.com.au | .co.uk | .us | .de | …
While there are cases where a particular country domain shows up in another country's search results (such as .co.uk showing up in Google Australia), this should not be purposely pursued as it is not a reliable strategy, and may impair user experience.
ccTLDs, treated as gTLDs
Some top level domains have originally been ccTLDs, but are commonly used and treated as gTLDs. Examples are
.tv | .me
Geo Targeting & Language Targeting
An international website should be set up to address the country and the language of the users, the language being used as a sub-element of the country: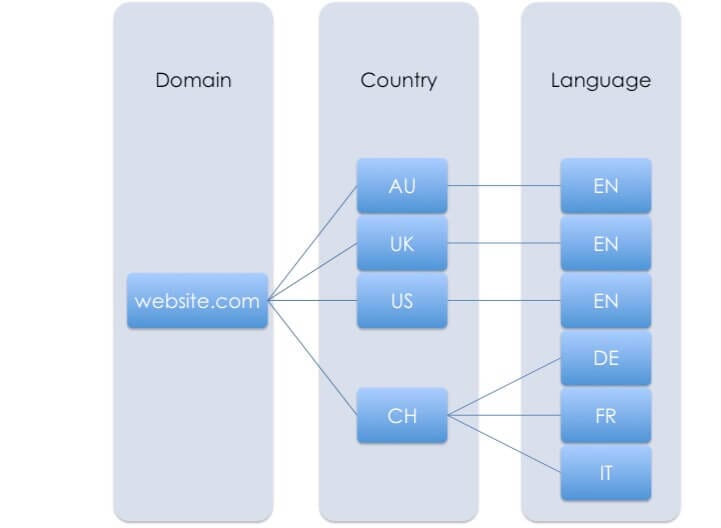 While targeting countries without specifying the language is possible (and preferred) in countries where only one language is spoken, it is not recommended to skip the country layer in the international domain setup. This is because the user and search behaviour varies from country to country: while US, UK and AU all speak English, the terminologies, and typography used for products and words can be very different.
On the flip side, multilingual countries such as Switzerland (CH) would gain SEO benefit from having specific language versions to target varying audiences.
For SEO, using the correct terminology can make the difference between ranking for a certain keyword, or being outranked by a competitor.
In providing the content for search and for the user, we aim to provide the best experience, meaning we need to speak the language of the user, literally.
SEO Strategies and Considerations
The domain strategy chosen for an international setup very much affects the required actions on geo and language targeting and the impact the implementation of those has on SEO. The most common setups for international websites are:
ccTLD (website.com.au)
gTLD + country folder (website.com/au/)
gTLD + country subdomain (au.website.com)
Each with their own advantages and disadvantages.
While ccTLDs tend to be preferred by users in some countries and make active geo-targeting redundant, the required infrastructure can be harder to maintain.
gTLDs are generally easier to maintain, however, active geo targeting is required to avoid Duplicated Content issues. The geo setup can be done either via subfolder (website.com/au/) or subdomain (au.website.com).
The language should in all cases be specified via subfolder, to avoid too many different domains being used.
All of these variations work equally well for SEO and there is no particular preference, if geo and language targeting are implemented properly.
Conclusion
A change or build of an international domain setup should be considered carefully and should be a long-term decision. Changing it too will often harm SEO as search engines must keep updating their index and change and replace URLs.
The decision can be made on the base of infrastructural / technical availabilities, SEO history and marketing requirements.
Regardless of which strategy is being chosen, it is crucial that both Geo targeting and language targeting are in place. This ensures an SEO friendly implementation and that a correct URL is delivered in the search results.


Relevant SEO services:



A market leading SEO agency

.

We understand that search engine optimisation is critical to achieving a high rank positions in search engine results, growing organic traffic, and increasing conversions.

Resolution Digital is a full-service SEO agency with a team of over 100 SEO specialists and proprietary SEO technology.