Resolution Digital has taken home the Microsoft Ads Agency of the Year Award for the APAC region once again, making it the second consecutive year, and third time in recent years.
The awards celebrate agency partners across the APAC region, and recognise the contributions of the team, operational excellence within the Microsoft ecosystem, and most importantly results achieved for agency clients.
Des Odell, CEO, said of the win,
"It's so fantastic to see the team achieve this – not once, but twice in as many years. We pride ourselves in driving remarkable results, so it's always great to see that recognised on a wider stage."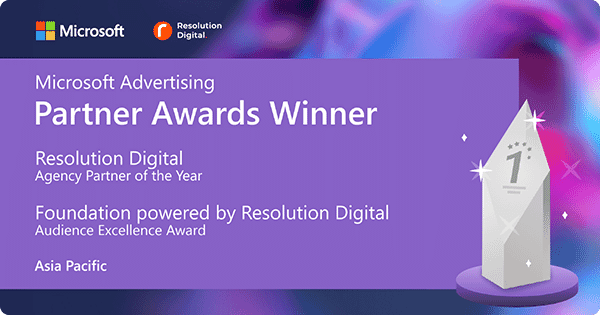 Microsoft has been making headlines recently with a number of acquisitions, and most recently the integration of ChatGPT into their all-new Microsoft experience, which includes the next iteration of Bing's search engine.
Georgina Wall, GM of Product & Partnerships said,
"We're seeing so much innovation come from Microsoft over the past year or so – not just within the search product itself (which has been incredibly busy!) - but across the wider Microsoft landscape too, with the acquisition of Xandr, and investment into OpenAI's ChatGPT to name just a few, making it a really exciting time to be working closely with a partner like MSA."

The great news doesn't stop there, with the team also taking home the "Audience Excellence" award for their work across Foundation's clients. This is the same team which also won Microsoft's APAC and Global Client Partnership Team of the Year, last year. This award looks specifically at the results driven through Microsoft's audience network – one of many new features released from the platform in recent times.
Hayley Monteiro, Head of Activation commented,
"The Microsoft Audience Network (MSAN) helped bring in incremental and more qualified leads. The campaigns are very efficient, help build awareness while also contributing to leads/conversions. Furthermore, the MSAN Effectiveness study, that we ran with the Microsoft Ads (MSA) team, showed how the MSAN campaigns drive an uplift in Search performance as well as higher website visitation rates. Apart from the great results, our MSA team have been amazing and collaborated with us through this entire journey to drive remarkable results."
Katherine Eills, Global Partner and Awards Lead, Microsoft Advertising said of the win,
"Microsoft Advertising is delighted to show our sincere appreciation and acknowledge Resolution Digital as the deserved winner of the APAC Agency of the Year Award 2023. The calibre and competition with the nominations this year was the best we have ever seen and this makes our regional winner's achievements all the more significant."
Resolution Digital is a full-service digital agency, part of the Omnicom Media Group AU, APAC's leading transformation company.


Learn more about our paid advertising services
Contact us to discover how we can deliver Remarkable results for you.