In accordance with Apple's App Tracking Transparency (ATT) framework, iOS 14.5 privacy features require apps to seek explicit permission from the user before tracking them for advertising purposes.
In the previous few blogs, we covered the
overall implications and changes
in this iOS 14.5 rollout, plus how it will impact advertising on Facebook and Google.
In this segment, we deep dive into
how these updates impact Snapchat
what changes we recommend to minimise the impact to your advertising
Overview
Snapchat will be showing the consent prompt when iOS14 demands it and will be complying to all necessary requirements across each of their data integrations – reiterating that they are already a "privacy centric" company.
Snapchat will offer SKAdNetwork reporting for measurement purposes, as well as further developing their own privacy focussed measurement solution - "Advanced Conversions" which similarly aggregates, anonymises, and delays reporting to comply with the ATT framework, creating augmented cohorts in-line with Google's
FLOC
methodology.
Impact
Audience Targeting
: Targeting will be impacted, as with all platforms, as audience pools inevitably decrease with the consent prompt and it becomes increasingly difficult to match precise user attributes where the IDFA is not available. Additionally, the 'auto exclusion' for existing installers will reduce in inaccuracy as a consequence. Additionally, users who do choose to opt-out, will no longer be included in the custom audiences created from the Snap pixel.
Bid Strategies
: A number of legacy bid strategies will no longer be supported following the rollout of ATT - app re-engagement, Target Cost and Minimum ROAS bidding will all be deprecated due to the data limitations.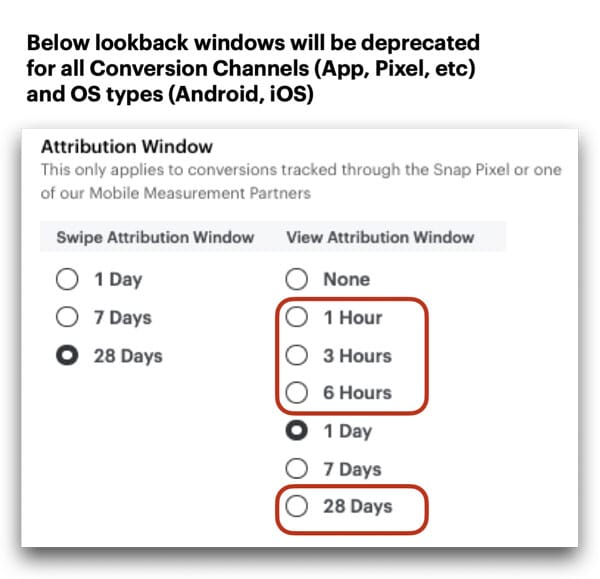 Source: Snapchat | Apple iOS14 & Snapchat - Attribution window restrictions
Attribution window restrictions: Similar to Facebook, Snapchat will also see attribution window restrictions, and are subsequently deprecating the 1 hour, 3-hour, 6 hour and 28-day attribution windows across their platform entirely.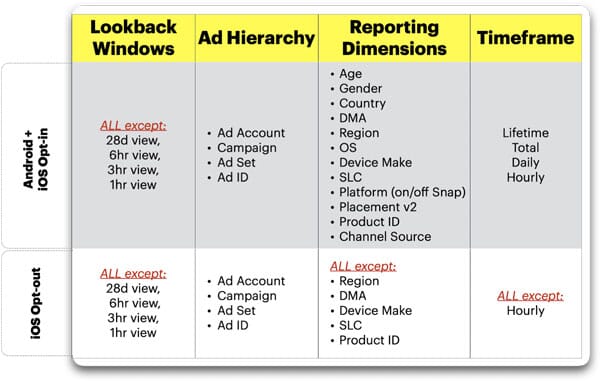 Source: Snapchat | Apple iOS14 - Snapchat & Reporting
App Reporting delays: Reporting delays in platform should be expected to be up to 48 hours post click, due to the limitations surrounding the SKAdNetwork. Additionally, SKAdNetwork reporting metrics will be shown in a separate column within the Snapchat interface.


Priority Actions
App Campaign Setup: Snachat recommends advertisers should:


Consolidate all iOS14+ campaigns toa separate ad account, with a maximum of 10 ad sets per app

Set up a "Snap App ID" to utilise the SKAdNetwork and enable measurement at the ad set level
Segment all future campaigns by operating system
Update any existing dual OS targeted ad sets to be Android only.

App Targeting: As we expect a decline in audience pool, advertisers are recommended to:


Upload their own first-party Custom Audiences

Create Snap Engagement Audiences from past/current campaigns
Create lookalikes of your custom audiences to build the pool size
Prioritise prospecting spend in Dynamic Ads

Reporting: With expected delays upto 48 hours, advertisers should:


Ensure you have the latest version of the SDK, or work with your MMP in relevant instances, to ensure SKAdNetwok compliance and configuration to the conversion values are mapped to the relevant app events.

For dual OS targeted campaigns using a Conversion Lift study, segment campaigns to Android-only (Conversion lift will no longer be available for iOS).
Enable SKAdNetwork use with the ad set level.
Snapchat Web Activity: Ensure you have the Snap Pixel installed to access improved targeting, measurement and optimisation - even if users have opted out of data sharing. Snap's pixel will automatically leverage their "Advanced Conversions" solution to help attribute events.
Resolution's PoV
"We support and will follow Apple's upcoming guidelines because we have always believed that advertising should respect consumers' privacy." Snapchat has said.
Apple's stance is that the "App Store terms and guidelines apply equally to all developers around the world," and that "users should be asked for their permission before being tracked." Apps that don't seek user's permission "will be rejected" by the company.
As mentioned in our previous blogs, we stand by our view, privacy and marketing can co-exist, as long as advertisers are taking pro-active steps to be well-prepared for the privacy update roll-out.
Over to you. What steps are you take to stay ahead of your competition?
This article is a part of the Apple iOS14 - User Privacy Update and Partners Series. Check out the other articles in this series: