Foursquare is a location-based data location provider, enabling use of third-party behavioural segments to enhance targeting capabilities within the digital space.
Developers and advertisers alike are preparing themselves for Apple's iOS14.5 impacts to the advertising ecosystem as the operating system continues to roll out to the masses and the App Tracking Transparency framework, along with its explicit consent for the use of the IDFA (identifier for advertisers), becomes compulsory.
Relying on mobile data signals and proximity targeting (another aspect impacted by recent changes within iOS14 where users can use an approximate location instead of exact) as a large part of their offering, puts providers like FourSquare in a challenging position as we face the new privacy focussed digital world.
Taking a proactive approach to combat the situation, the company focussed on driving consent levels as high as possible with the use of tailored messaging for the consent opt-in journey. By showcasing to the end user, the benefits of sharing their data, and detailing how a more personalised experience can improve their overall experience, business pose a stronger chance of the user agreeing to data collection.
Earlier this year, Foursquare (FSQ) decided to run several experiments using primer messages to see how users would respond when asked to give permissions for data collection.
In this segment, we dive into
Foursquare's tests and findings
Strategic recommendations
Strategic Recommendations
As per the new requirements of App Tracking Transparency (ATT) framework - all apps installed through the App Store will be required to prompt the user to either allow or decline collection and sharing of data points.
Here are 2 strategic recommendations that can help marketers adapt to the new privacy-first ecosystem.
1. Letting your users know why you need their data and how can they benefit from opting in:
While the ATT notification cannot be changed, FSQ recommends:
Adding a message ahead of the ATT consent
Using plain, concise language that will clearly articulate what kind of data is being collected, what it is being used for and how the user would benefit from sharing the data.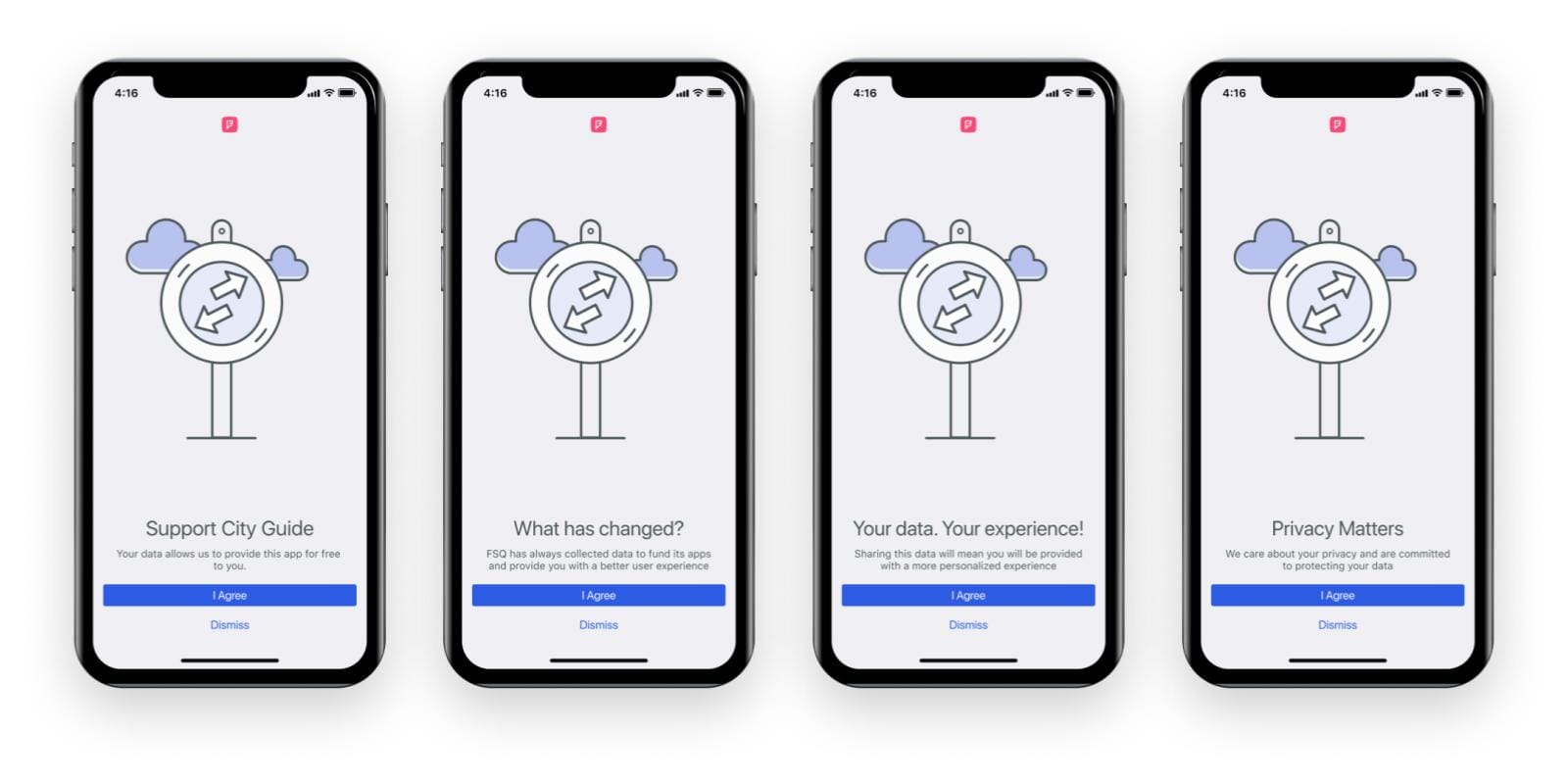 2. Focussing on an ID-agnostic approach: As the IFDA becomes increasingly hard to capture, platforms are needing to pivot to more contextual methods to personalise and target messaging to target audiences. Marketers and advertisers need to embrace a pluralistic future decrease reliance on mobile advertising IDs such as the IFDA, and explore solutions that enable relevant reach in a privacy safe way.


Summary
In the midst of a shifting identity landscape, brands and marketers still require the high-quality data they need to effectively reach consumers and amplify their message more than ever before.

As the industry evolves, striking a correct balance between addressability and accountability is essential. By opting to focus their strategy on transparency of data use and user benefits, Foursquare aim to maintain data pool sizes to a substantial level to be able to maintain precision within their offering. Additionally, they will be adopting the Unified ID 2.0 solution, which leverages single sign on data across the open web, as a decentralised solution to maintain integrity of data sets, as well as LiveRamp's identity link solution.

This article is a part of the Apple iOS14 - User Privacy Update and Partners Series. Check out the other articles in this series: