Salesforce has moved to acquire three companies in the eCommerce, app development and digital privacy space.
Salesforce has continued its strong momentum and signed to acquire Atonit, Traction on Demand, and Phennecs, broadening their eCommerce, app development and digital privacy expertise. Let's take a look at the acquisitions and the opportunities ahead for the Salesforce stack.
Atonit
Atonit is a Brazilian eCommerce marketplace management solution based on the Salesforce platform. Salesforce Executive VP & GM for Digital Experiences Lidiane Jones, anticipates great value in Atonit's functionality for Salesforce customers looking to convert users:
"After acquiring Atonit, Salesforce customers will be empowered to grow revenue by garnering commissions and membership subscription revenue from vendors, growing shopping cart sizes, and expanding into new product categories with ease."
Traction on Demand
North America's largest Salesforce consulting partner and app development firm, Traction on Demand, has also been snapped up by Salesforce. The firm provides 24/7 services across its offices in the US, Canada, India, Australia and New Zealand, and creates apps that engage users across the user journey. In a media release, Traction on Demand said of the acquisition:
"With Traction on Demand, Salesforce will be able to better provide customers, across all industries, with products and solutions that meet their specific needs, from financial services to communications and across clouds. Together with Salesforce, and our deep commitment to our industry strategy, customers can go digital faster and transform their industry."
Phennecs
Salesforce has acquired privacy, compliance, and data management solutions startup, Phennecs.
Digital privacy is a big talking point for lawmakers, consumers, and businesses alike, and the Phennecs acquisition strengthens Salesforce's expertise. With a well-resourced first-party data management approach, this acquisition will ensure a higher standard of compliance across the Salesforce suite of MarTech offerings, for each stage of the user journey.
Stay up to date with our latest MarTech Capability Matrix
The Marketing Technology (MarTech) space is rapidly evolving, with frequent acquisitions, re-brands, and little commonality in how the various marketing technology platform's capabilities align to a common user journey.
This can make it challenging for you to assess potential MarTech and AdTech vendors, or understand which capabilities to unlock in your preferred technology stack.
Our MarTech Capability Matrix features the capabilities of the major technology vendors used in Australia, including Google, Salesforce, Adobe, Microsoft, Oracle, SAP, Sitecore, Optimizely, and Hubspot.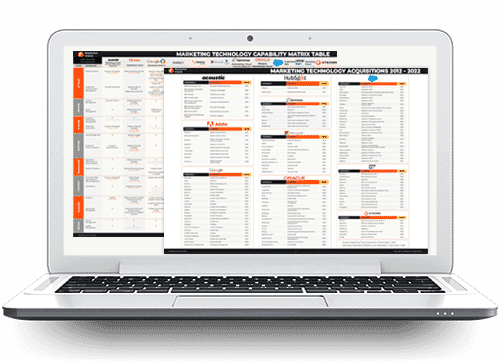 Learn more about our Salesforce Marketing Cloud services
Questions? We're here to help.