Struggling to optimise & make frequent Google My Business (GMB) updates across multiple store listings? Here's how you can automate it in a few clicks.
Google My Business (GMB) is Google's free listing service and one of the best ways to rank higher on Google.
Whether it's through the local finder, Google search or Google Maps, having a GMB profile for your business helps you get found by potential shoppers, consumers, and clients.
Having an up-to-date Google My Business (GMB), in this unprecedented era, is an absolute essential part of your local search strategy. Follow this guide to learn more about keeping multiple Google My Business listings up to date and optimised.



What is Google My Business (GMB)?
Google My Business (GMB) is Google's answer to the Yellow Pages, and has become increasingly critical for businesses with multiple service locations, offices or stores.
There are numerous benefits to creating and using a Google My Business profile. GMB helps businesses gain more exposure, especially at a local search level. These listings provide easy access to critical information such as:
Business Address/Branch Locations
Business Hours
Reviews and Photos
Service/ Products Categories offered at these locations
Latest Posts & updates
Ranking in the local search listings is highly competitive, and the algorithm used for Google My Business listings differs from that of traditional website search. But the benefits are worth the optimisation efforts, as a top placed pin will put your business right to the top of page 1.
Resolution Digital works across a wide range of large local search brands; from quick service restaurants to national retail brands. Keeping their listings in tip-top shape is a big job, and we have developed proprietary local search tools that help ensure this process fast and accurate. If you are interested in getting support with multiple local search listings speak to one of our experts in this field.
The Benefits of Google My Business (GMB)
As the leading global search engine, Google forms a key part of a customer's path to purchase. Many businesses are looking to connect the online research journey with footfalls in store, and the local search listings form a critical part of linking these areas.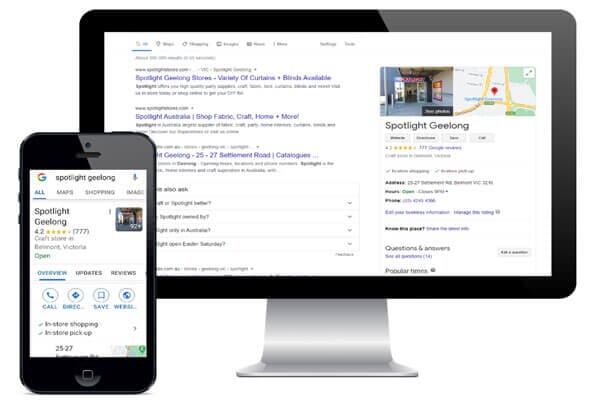 1. Cost-Effective
One of the elements that made Google My Business so competitive against Yellow Pages, True Local and other directories is its free model.
Businesses can set up a listing without any charge, and the options to pay for promoted local listings are subtle.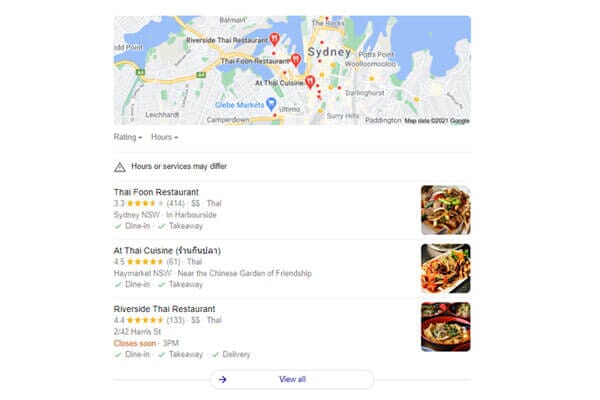 2. Appear in Google Maps and Google Search
The prime real estate of Local Search is the Local Pack. It appears right at the top of the search results pages and guides the user to the local businesses that fit their query.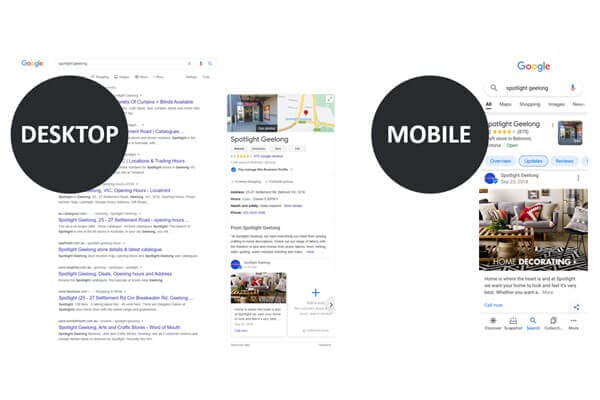 Image: How Google Posts appear on various devices
3. Bulk Publishing of Google Posts
GMB Posts are short 100 – 300 word posts that go with a photo or video.
A Google Post is content that promotes a business's announcement, offer, event, or product update on their mobile listing's Posts and Overview tabs and Google My Business page.
Depending on the nature of the customers' search query and your content, your Google Post will either show up on Google's search or map results.
These Posts can be timely reminders for customers to step into store, and support top of mind awareness of promos at a critical time – just before they arrive to buy.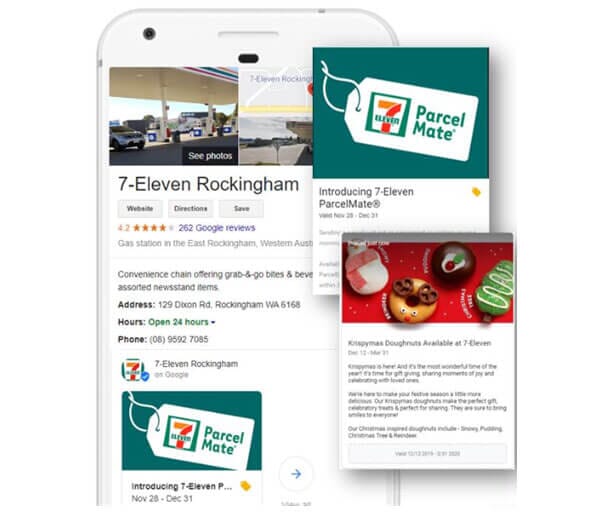 Example of timely reminders of in-store activities
These Posts can be timely reminders for customers to step into store, and support top of mind awareness of promos at a critical time – just before they arrive to buy.
Our focus is always to:
- Craft headlines that appeal to potential customers
- Publish Google Posts to all locations quickly via our automated platform, that is clear, concise, and compelling
- Use high-quality visuals to make the Google Post stand out
- Link a post to a specific URL to collect user information or increase traffic to areas of a brands mobile app or website
4. Bulk Management of Reviews and Ratings
Customer reviews form an important part of the local search algorithm, and having positive and relevant reviews helps contribute to a business's search engine rank results.
Reviews help influence, and in some cases determine a customer's buying decision. According to Shopify, online reviews influence about 93% of customers' buying decisions.
Managing these reviews can be onerous, especially where businesses have multiple (even hundreds) of Google My Business listings across the country.
As part of our proprietary SEO tool suite called Flightdeck, Resolution Digital has built a review management platform.

Average review scores across various locations in Australia for a large retailer
Getting Ready for 2021 and beyond
The pandemic has changed the game for GMB and has been brought in the digital marketing spotlight. A recent report by Google shares that 60% of smartphone users have contacted businesses directly through GMB interface using the 'click to call' feature.
Your GMB profile is the first point of contact between you and your end consumer, and it's crucial that you optimise it to display accurate and most updated information about your business.
We understand that managing multiple listings can be overwhelming and time-consuming – and we are here to help you optimise your multi-location GMB listings. Contact Us today.
How Location Marketing boosted McDonald's website visits to a billion a year
In just 5 years, Resolution Digital was able to elevate McDonald's site visits from 10 million hits a year to a billion a year. Utilising FlightDeck, the team optimised McDonald's Local SEO marketing, and credible customer reviews, generating 5x more results.
Learn more about our SEO services.