With the constantly changing digital landscape it is important to stay up-to-date all the time and the same applies on your Kentico platform as well.
Why should you upgrade your Kentico Xperience?
It is no secret that the best way to create engaging experiences and grow your business faster is by leveraging the power of a Digital Experience Platform (DXP) that combines content management, digital marketing, and e-commerce.
A market leader in this space is the flagship DXP by Kentico. Kentico Xperience has come a very long way over the last few years in terms of its suite of technology and features, and its future road map similarly promises to keep the product continuously updated and suitable for all modern digital marketing needs.
Kentico Xperience as a product is now at a very exciting junction. The latest version is Kentico Xperience 13 has evolved heavily over the past few years and now looks to expand its portfolio with two exciting products:
Xperience by Kentico – which will be successor of Kentico Xperience 13

Xperience Managed Cloud Service – which is a new cloud-hosted service
In today's technology landscape, it is essential to ensure to minimise technical debt by securing investment in a technology that evolves, as well as provides safety and security for any major business at a time when data security is more vital than ever.
The best way to achieve this is to keep your Kentico instances, but ensure time investment is put aside to upgrade to the latest versions to maintain safety, security and ROI. As the new year arrives, any marketer should have one of the above-mentioned products at the top of their to-do list, and have a plan to upgrade to Kentico Xperience 13 as soon as possible.
What are the benefits of upgrading to Kentico Xperience 13
While any technological upgrade can prove to be time consuming and costly, below we outline just a few of the pivotal reasons which confirm why upgrading your Kentico Xperience will benefit your organisation.
Staying current, staying relevant, staying safe: Keeping the Kentico environment updated with regular refreshes makes sure all latest features are available and keep the system safe and secure. Also, Kentico comes with Quarterly product updates which reduces the complexity of an upgrade with regular but fewer changes, providing time and cost savings.
Latest technology: Kentico has a much leaner and cleaner tech stack. It is focused on delivering new features. ASP.NET MVC Core application that can be now built with Kentico Xperience 13 which opens doors to many features like featured folders, tag helpers and Docker.
New look and feel: The new UI makes completing different tasks much easier and hassle-free for all marketers.
Improved search: Xperience 13 comes with added support for Azure Cognitive Search. Azure Cognitive Search is the only cloud search service with built-in AI capabilities that enrich all types of information to easily identify and explore relevant content at scale. Also, the latest search index enables crawling of both structured content and raw page HTML output.
Improved marketing automation: Marketing workflow configuration is much more intuitive and faster. The workflow steps can be reused as templates, which enables faster go to market, saving your organisation time and improving your CX strategies.
Is your organisation ready to upgrade? Find a pathway
Support for the Kentico 12 Portal Engine ends in 2023. The upgrade pathway depends on what is the Kentico version you are on currently. A typical upgrade path from Kentico 12 to Kentico Xperience 13 looks something like below: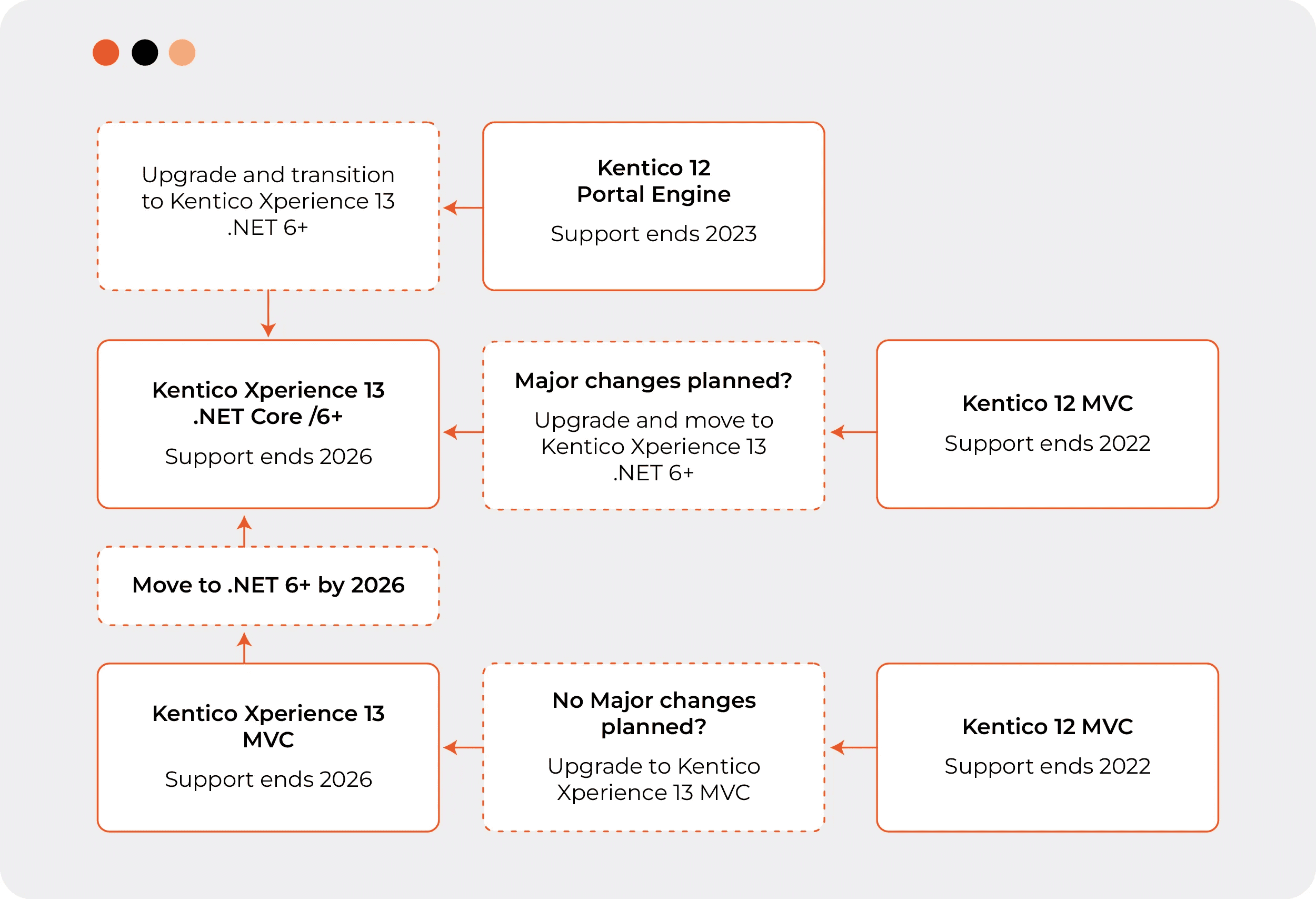 Need help in upgrading your Kentico Xperience?
There is a possibility that your Kentico instance may currently be on an older version, however we are cogent of pathways for all updates.
We are a gold level Kentico partner with extensive experience and expertise in multiple Kentico based project deliveries including upgrades. Contact us today to get started on your upgrade journey.
Enhancing user journey experience through Bingo Industries' digital transformation
Bingo's new digital platform MyBingo has transformed and revolutionised the way in which Bingo services clients and saved thousands of hours of manual processes. Learn how custom software development platform MyBingo has changed the user journey experience for Bingo customers across all platforms.
Learn about our Kentico Xperience services
Talk to us about upgrading your

Kentico Xperience

.