We've all witnessed internet giants born in garages and start-up unicorns like Uber and Airbnb taking on long-established industries but is Australia ready for the next biggest digital disruptor in the online shopping industry? Aussie shopping behaviour has seen a...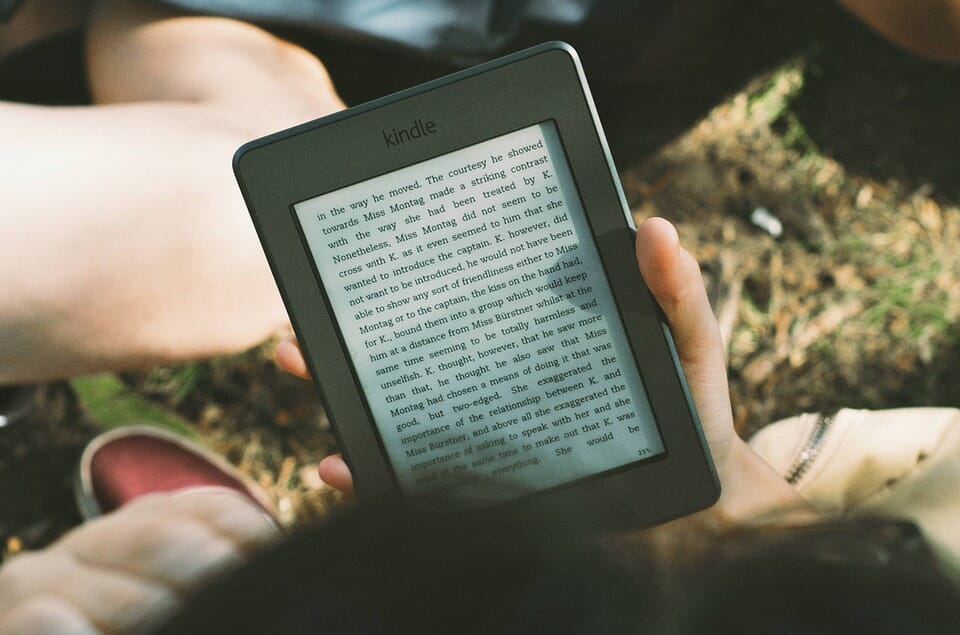 We've all witnessed internet giants born in garages and start-up unicorns like Uber and Airbnb taking on long-established industries but is Australia ready for the next biggest digital disruptor in the online shopping industry?
Aussie shopping behaviour has seen a landslide shift in recent years with e-commerce sales increasing from $26.8B in 2013 to $32.6B in 2017 – and there's no sign it's slowing down. This lucrative trend is a huge talking point among onlookers both local and international. And the conversation is expected to heat up even further as American retail giant Amazon officially sets foot in Australia later this year.
Ready, steady, launch!
Amazon's entry into the Australian market is likely to come in many forms. In preparation, they've appointed high profile logistics agents and are eyeing large warehouses and offices with the aim of selling and distributing online, as well as through physical stores mainly in regional areas. For those who are job hunting, the company has advertised for more than 100 roles across IT, marketing, sales and HR – with more opportunities on the horizon.
According to Citi, Australia retail analyst Craig Woolford, the Australian marketplace is exactly what Amazon is looking for.
He pinpoints five common elements across Amazon's international markets:
High internet penetration and share of retail sales in e-commerce channels
Modern IT and telecommunications infrastructure
Strong logistics infrastructure
High income per capita
Experience selling products in the targeted market
Taking on the supermarket giants
The supermarket space will be a key battleground in Australia. Amazon's home delivery grocery arm AmazonFresh is looking to roll out next year and promises the ability to order by 10am to have your products delivered by dinner. If that sounds too good to be true… you're partly right. The catch to Amazon's cheap grocery delivery? The $299USD/year price tag of an Amazon PrimeFresh membership.
Will we see this Costco-style membership discouraging consumers? Or will it increase Amazon's loyalty base across multiple verticals? If we look at what's happened in the U.S. and India (research suggests that Amazon Prime is slowing the revenue growth of Netflix), it's entirely possible Australians will embrace PrimeFresh with open arms.
Local Australian businesses feel the heat
While consumers reap the benefits of cheaper prices, a larger variety of products and faster shipping, some argue that Amazon will push wages down and put local retailers out of business.
Retail king Gerry Harvey has deemed the U.S. giant 'the world's greatest tax evader… [one] that has spent [its] life sending small businesses and big business broke all across America'. What's more, Citi Research predicts that Amazon's entry will create a greater than 2% drop in sales, with JB Hi-Fi to absorb the largest hit at 6%.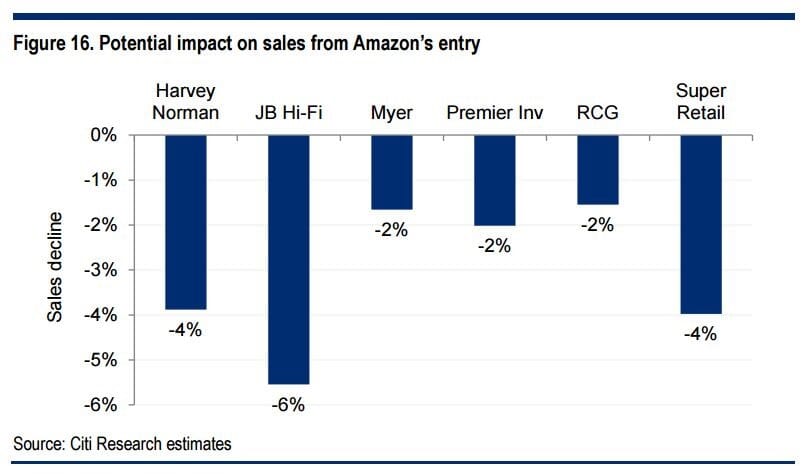 Impact on the digital industry
Search engine rankings

Let's take a look at Amazon's June 2013 launch in India. When comparing amazon.in's natural search visibility against two of India's largest e-commerce sites flipkart.com and snapdeal.com, you'll see in the below graph that Amazon's dominance has steadily increased. In fact, the company overtook both competitors in market share in mid-2016.
Of course, replication of this trend isn't guaranteed in Australia. For one thing, Australia's competitor space is vastly different from India's. But what this case study does evince? All retailers would do well to treat organic search as a critical driver of conversions – online and offline.
In Australia, the opportunity to convert consumers shopping around on price or looking to try new products is ripe for the picking. (In fact, Australians who use Audible or have Kindles are a market of Amazon loyalists who are primed to shop Amazon from Day 1). Leveraging generic product keywords such as 'phone' or 'laptop', which consistently receive high search volumes, will no doubt be key.
And as Australian consumers share more product URLs, more articles link to the site (and so do more local and international commercial partners), Australia's Amazon website will naturally increase in domain authority and organic search visibility.
Audience data
Amazon has its fingers in a stupendous number of pies – operating in verticals from retail to media to IT and more. This allows the company to collect an incredibly rich data pool of audience information and behaviour.
And even though Amazon hasn't launched in Australia yet, the company already has Australia-specific first party data at its fingertips – namely from Kindle and Audible users. This has great potential to be used in future audience retargeting programs.
Competitor spend ramps up
In preparation for the 'Amazon Effect', competitors have already ramped up their digital marketing activity.
Three highlights from research by Morgan Stanley:
Retail companies are recruiting agencies and consultancies to help reposition their Facebook and Instagram accounts as online shopping channels and 'replacement[s] for magazines'.

'Dynamic Product Ads, company pages with pictures/info about SKUs (stock keeping units) that link users to brands' websites, and on-platform 'Shop Now' buttons are all being emphasised.'

20,000 retailers sell products and services on Pinterest via the Buyable Pins tool. While it's currently free for companies to do this, this is likely to change further down the track.
Google's introduction of shopping ads in image search results and local inventory ads has seen 'incremental' ad spend. Increased SEM competition should also see higher CPCs across key product terms.
What's next for digital marketers?
The 'Amazon Effect' might not be the end of days as some are currently predicting. But even so, it's still important for digital marketers to take pre-emptive action. Initiatives that showcase local advantage are key.
Our recommendations
Reimagine your consumer engagement strategy. Aim to make purchase, fulfilment and issue resolution as frictionless as possible while adding extra value – be it through personalised messages, service or purchase incentives that match up with where they're placed in the path to purchase.
Use a CRM tool to collate customer data and better manage customer relationships. Nurturing lasting relationships is the name of the game. By being proactive, you may be able to mitigate the number of customers who trial then make the permanent switch to Amazon.
Leverage a Data Management Platform (DMP) to enrich your customer data and drive media efficiencies.
Clearly articulate the key differentiators of your products and services to ward off commoditisation. For instance, are there benefits to buying local versus grey market?
Monitor your Amazon reseller activity to ensure your direct offering remains competitive.
Special thanks to Klaus Germann and Mohammad Heidari Far for their contributions.
A full-service eCommerce strategy that generates demand and drives sales
Our eCommerce strategies go beyond owned channels and consider how to aid our clients to excel across the modern digital shelf, including everything from search-based shopping ads to marketplaces and pureplay eCommerce platforms.
Learn more about our eCommerce Services
Talk to us about how we can accelerate your Amazon Marketplace strategy