A customer data platform (CDP) is a prebuilt software system that centralises customer data from all digital touchpoints, making it available for campaigns and other marketing initiatives.
Why you should be considering a CDP
How much do you truly know about your customers? Understanding a customer's wants, needs, and purchasing behaviour is the key to turning an occasional buyer into a regular one or taking someone who's on the fence about buying from you and persuading them to take the next step. The better you know somebody, the more you can tailor your approach to them. The more tailored and personalised your strategy is, the stronger your chances of success are. That's why a quality customer data platform (CDP) is essential. In this article, we're going to be looking at what a CDP is, what it does, and the value it could bring to your business.
What is a CDP?

A Customer Data Platform is a modern addition to the Marketing Technology Stack. A CDP gathers data from multiple sources to paint a clear picture of who your customer is and what motivates them. With an effective CDP, you'll be able to build a data-based profile of each customer through which you can track, analyse, and plan your interactions with them.

There's no limit to what type of data can or can't be included in a CDP, but typical examples would consist of basic demographic data like their name, address, and year of birth; transactional data including their history of purchases and any returns they might have made; and more nuanced behavioural data gathered from specific apps and websites. This might include the amount of time they've spent on a particular page or a history of links they've clicked on, thereby demonstrating their interest in a specific product or service.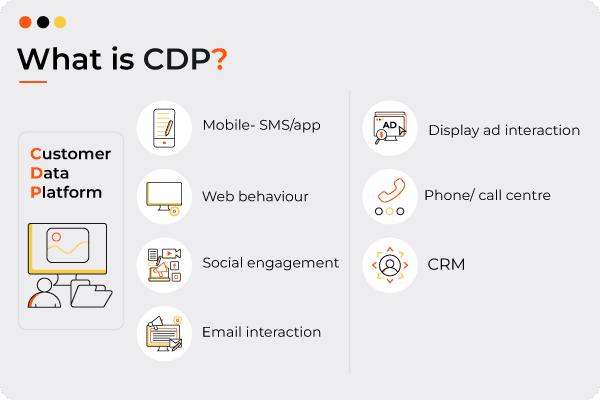 What does a CDP do?
In broad and general terms, a Customer Data Platform or CDP is a software package that creates a tailored database designed to be accessed by other software, to generate interaction opportunities and sales funnels. A typical CDP serves three specific purposes:
Data collection and unification

- the gathering of data from multiple sources (including email, social media, and e-Commerce websites) to create a first-party data profile.

Data management

- controlling the flow of information between various marketing platforms and maintaining or updating consents in line with GDPR requirements. Customer data is useless unless you have permission to act on it. A good CDP ensures that you do.

Data activation

- with the first two purposes served, you now have customer data ready to be actioned. The Customer Data Platform handles that for you by segmenting your audience, allowing your marketing platforms to devise specific approaches for each segment based on actual data rather than guesswork.
Why do I need a CDP?
No matter what type of business you run, you'll collect customer data. Some of that data will be gathered deliberately, and some will be gathered accidentally. Bringing each different type of data together and then interpreting it correctly isn't easy, but it's essential to deliver a cohesive customer experience across your channels and touchpoints. CDPs are complex, engage a Marketing Technology consultant to ensure your CDP is properly integrated into your MarTech stack and data sources needed to deliver upon your business use cases.

A CDP solves this problem by merging and interpreting the data for you, so that you can focus on leveraging the data to make informed, actionable recommendations for your customers. The timing of an approach is critical. With a high-quality CDP, your timing will be impeccable.



How is a CDP different from a CRM, DMP & DXP?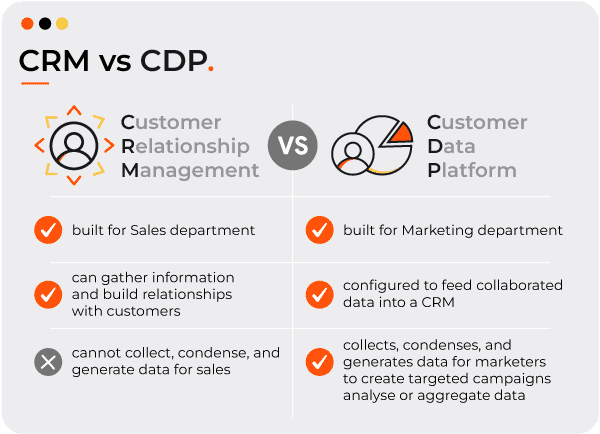 CRM vs CDP You might be reading this and thinking, "that's what my CRM does," and in some ways you're right, but there are crucial differences concerning focus and purpose. A CRM (customer relationship management) platform is built for the purposes of your sales department. Marketing teams can and do use CRM platforms to gather information and build relationships with customers, but a CRM cannot analyse or aggregate data in the same way a CDP can. A CDP is specifically designed for marketing. It collects, condenses, and then generates data for marketers so they can create targeted campaigns. Far from being different versions of the same thing, a CDP can be configured to feed collaborated data into a CRM.

You may be aware of other means of collecting and aggregating customer data, so here's a quick look at the common ones and their differences.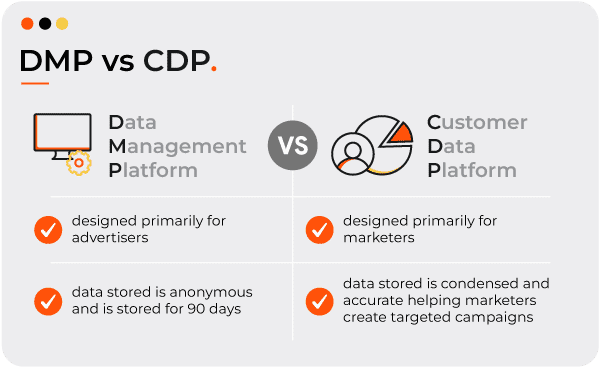 DMP vs CDP: A DMP is a data management platform and is another piece of software designed for marketing. However, a typical DMP merely supports web display adverts and collects data from cookies. This data is anonymous, vague, and can often only be stored for 90 days. You cannot accurately create a picture of a customer from DMP data.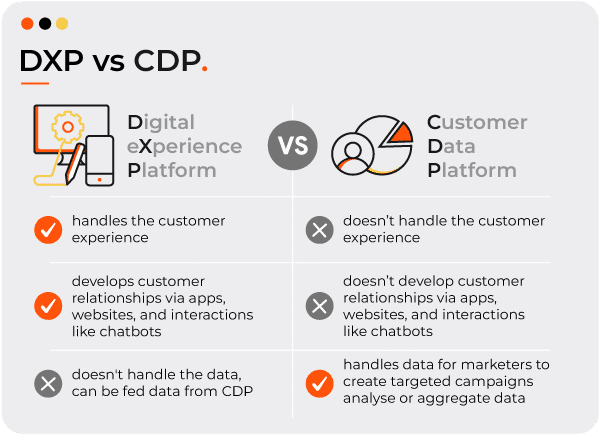 DXP vs CDP: A DXP is a digital experience platform. There are some areas of overlap between a DXP and a CDP, but the purpose of a DXP is to develop customer relationships via apps, websites, and other points of interaction like chatbots. A DXP, by definition, handles the customer experience. It doesn't handle the data behind it. Without data, a DXP is useless. A CDP provides that data. Much like a CRM, a DXP can be fed data from a CDP, thus improving the performance of the DXP.
What is the future of CDPs?

Machine Learning at the core: Using Machine Learning in a CDP is an important trend that is likely to continue. Tasks that would traditionally be performed by a data analysis or data scientist can be instead performed by algorithms within a CDP. Some examples of these tasks are answering: what is the next product a customer is likely to buy? What is the next best offer for this customer? How likely are they to churn? How valuable are they to my brand?

Applications beyond digital marketing: CDPs are sometimes thought of as digital marketing-only tools and are leveraged as such. Due to the expanding sophistication and value that CDPs can offer to a brand, using them beyond digital marketing will help realise a greater return on technology investment. A common example of this is using predictions about a customer's value to a brand, to support in-store or call interactions. A customer who is predicted to churn could be offered an incentive to purchase.

CDPs will require a new range of skills for brands: Even though CDPs are designed to be easy to use, they do require understanding of topics such as customer identity, customer journeys, modelling, segmentation, data onboarding & integrations, enrichment, use case development, and value realisation. Brands who can align stakeholder teams and skillsets around CDP management and usage will be best positioned to see the most value from it.
Ready to hear more about CDPs?
We provide a range of technology solutions aimed at bettering the relationship between businesses and their customers. One of the solutions we're most proud of is Segment, our Customer Data Platform. Click the link to gain a deeper understanding of how we can help you to reach your customers in new ways - or feel free to get in touch directly for a no-obligation chat.
Stay up to date with our latest MarTech Capability Matrix
The marketing technology (MarTech) space is rapidly evolving, with frequent acquisitions, re-brands, and little commonality in how the various MarTech platform's capabilities align to a common user journey.
This can make it challenging for you to assess potential MarTech and AdTech vendors, or understand which capabilities to unlock in your preferred technology stack.
Our MarTech Capability Matrix features the capabilities of the major technology vendors used in Australia, including Google, Salesforce, Adobe, Microsoft, Oracle, SAP, Sitecore, Optimizely, and HubSpot.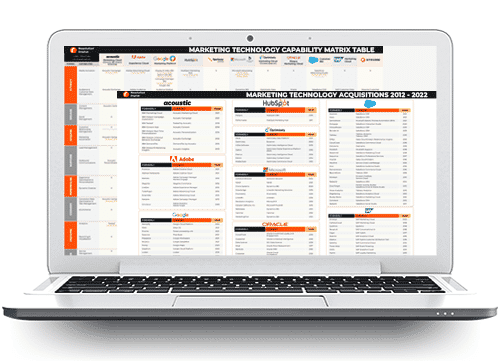 Learn about our Digital Experience Services.
Are you ready to

accelerate your marketing activity 

?