Recently, coming in-part as a response to the rapid tech changes and increasing data protection, Google introduced Google Analytics 4 (GA4) as the new approach to unify digital web and app analytics.
Here we will cover:
What is Google Analytics 4?
How it is helping marketers prepare for the demise of cookie data.
Popular use cases for server-side data management.
Cleanrooms – what are they and do you need one?
Real life case studies for GA4 usage.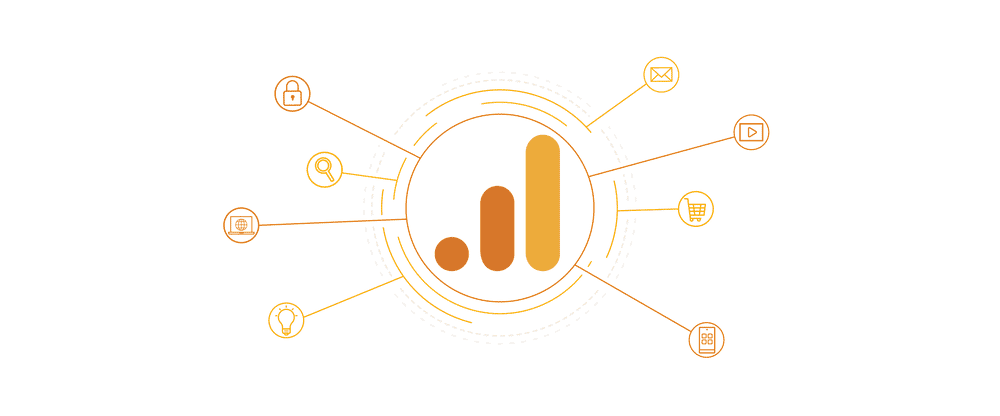 Introducing the new Google Analytics (Source: Google)
What is Google Analytics 4 (GA4)?
GA4 introduces an event-driven data model, expanding the use of Firebase (initially developed for app analytics).
Google Analytics 4 goes a long way to help combat the potential loss of cookie data by using multiple identity spaces to recognise users across environments. These include:
Client-provided User ID value sets for logged-in users
Google Signals from non-logged-in users
Conversion modelling to fill the attribution holes
The new analytics platform uses machine learning, to combine features from observed customer data as well as historical trends data collected across Google's pretty extensive set of platforms.
Called Google Signals, this has been progressively rolling out in the Google Marketing Platform for several years and has recently come a long way.
It now allows you to recognise users who are not logged in, by using additional telemetry when users enable ads personalisation. For most users, this is on by default.
As clients jump on board with these new features, we are able to enhance their data fragments to include phone, CRM data, authentication and even email address.
Things to Be Aware Of
Google Analytics 4 and Google Signals should not be considered a complete solution to solving the challenges of cookie deprecation, which is likely to continue evolving as the goalposts keep moving.
Server to Server Tagging
Server-side data management is when a pixel or tag sends data into a web server, this web server (part of our clients infrastructure) passes that data to the destination system/server (in our case the Google's Analytics Database). The use cases for this data are pretty extensive, and include marketing automation, marketing analytics, customer personalisation, media optimisation and more.
However, despite the clear upside, brands are still exploring this space, everyone is hesitant to invest significant time and resources, due to security concerns and Apple's expected User privacy update roll out.
Benefits
Server-Side tracking gives control back to businesses about what data is shared with third-party tracking platforms. The tracking provides improved security as it limits the scope and volume of third-party JavaScript or App SDKs being deployed across businesses websites and applications.
Under typical circumstances, IDs set by the server, if part of the same system infrastructure as the website, will not be blocked by the various tracking prevention protocols being adopted by web browsers and mobile operating systems. This means that businesses can retain better visibility of users' path to purchase on lookback windows greater than 1-7 days.
There are still limitations in the ability to synchronise a user identifier across third-parties. We are continuously testing the variations in datasets and have not yet encouraged clients to completely switch all production tags to server-side tagging.
Resolution Digital works with its clients' infrastructure and development teams to implement and adopt server-side technology provided by Google, or to leverage our clients' existing technology. In addition to Analytics, we have been working with clients on other server solutions, such as Conversion APIs, that allows for longer lookback windows within media performance platforms.
This in turn provides businesses with the ability to continue to report on media effectiveness while also preserving user's data privacy.
Why are Cleanrooms Important for Digital Marketers?
With the introduction of regulations such as the General Data Protection Regulation (GDPR) and the California Consumer Privacy Act, the digital media landscape has been pushed into a completely new era. The emergence of walled gardens to safeguard data privacy has led to the end of cross-platform data exchange.
Advertisers have developed 'clean rooms' as a mechanism for brands to continue to leverage insights and develop audiences from event-level media data.
Google's product is called Ads Data Hub (ADH) and is available for Google Marketing Platform customers, while Facebook and Amazon are developing their own solutions.
Our Approach
At Resolution Digital, we have been working closely with these products, in particular ADH, to develop measurement solutions that minimise the impact of changes to cookie tracking for digital marketers who have significantly invested in the Google Marketing Platform.
We have also developed several solutions that leverage features in ADH which were previously unavailable to brands, such as YouTube exposure and first-party data integrations.
Here are just a couple of recent use cases we have worked on:
A major food and beverage retailer were able to profile first-party customer segments against media behaviour to observe the uplift in conversions across these segments during a key video campaign.
A financial services provider measured the impact of branded YouTube campaigns on driving increased paid search engagement.
Resolution Digital has been supporting the introduction of profile segments or user identifiers into our client's data ecosystem for some time now.
The teams have extensive experience with web/app analytics strategy and implementation across a number of platforms, including Google Analytics 360, Google Analytics 4 and Adobe.
ID matching is a core part of our methodology and has been since the early days because cookies, even in a first-party context, are still not a true representation of a holistic customer journey.
Get in touch to find out how we can help ensure your business is keeping up with the analytics landscape.
Resolution Digital has a variety of services to help you get started with GA4:
Learn about our digital analytics and measurement services
Discover how we can

help you switch

with Google Analytics (GA4).