Privacy Enhancing Technologies (PETs) have advanced over recent years to become essential to marketing strategies that align with the new privacy and regulatory laws.
As the online world takes an increasingly privacy-first approach, digital marketers once again have to adapt to changing technologies, new measurement techniques, and data management strategies. Data protection laws have been tightening globally and third-party cookies are being phased out. Despite these changes capturing and sharing digital information continues to increase significantly, emphasising the need for Privacy Enhancing Technologies (PETs).

In this guide, we're going to cover what PETs are, how they affect the future of digital marketing, their potential downsides, as well as how to adopt them successfully.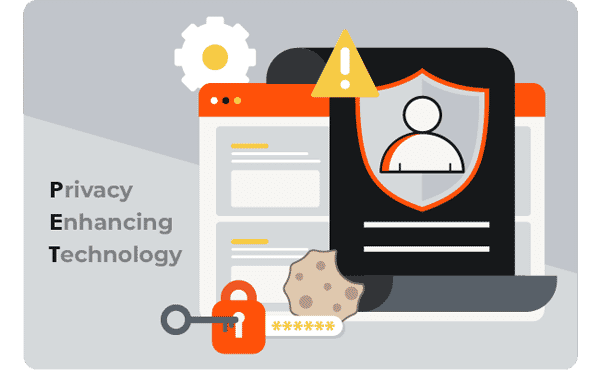 What are Privacy Enhancing Technologies?



Privacy Enhancing Technologies (PETs) help enhance consumer data privacy online.
To be more precise, PETs encompass a range of technologies, often more aptly referred to as 'techniques', that aim to leverage and expand the use of data and data extraction without risking user privacy or a breach of data privacy laws. PETs have been around for a while, and one of the 'traditional' ones you're probably most familiar with is encryption. However, as the digital landscape changes, new PETs are emerging as leaders in the space.
Examples of top emerging PETs
While PETs are constantly being developed, there are five major standouts that are cementing their importance in our digital future:

● Homomorphic encryption: Fully homomorphic encryption (FHE) allows a recipient to work with secured data without having to decrypt it first, protecting the underlying data. FHE hides the underlying data with "noise" that prevents the original data from being distinguished from the noise.

● Secure Multiparty computation: Secure Multiparty Computation (MPC/ SMPC) distributes a computation across several parties, while keeping their respective data private. In simplistic terms, the input data is fragmented so that no single party sees the whole data except their own, but uses additive secret sharing to collate the outputs.

● Differential privacy: Differential privacy provides access to data without revealing any personal information about individuals, thus maintaining confidentiality or privacy. Marketing cleanrooms such as Google Ads Data Hub, and Facebook Advance Analytics employ differential privacy among other mechanisms to protect the underlying data.

● Zero-knowledge proofs: A zero-knowledge proof is a verification process that happens between a prover and a verifier. The prover demonstrates to the verifier that they have a particular piece of information, without revealing the information itself. Interactive zero-knowledge systems require a sequence of challenge statements between that prover and verifier. If the prover sends the correct response then the verifier is able to use statistics and probability to determine the prover has the information compromising the underlying private data.

● Federated learning: Federated learning refers to the process of decentralising the computation for a process such as machine learning. The outputs are then aggregated on a centralised machine to compute and generate the final results, without exposing the underlying data. A simple example could be using machine learning for text prediction on a local mobile phone, but only aggregated data is shared back to the central server to improve the central machine learning model.
These PETs all use different processes for maintaining privacy, however, they all allow for the sharing of sensitive data and/or data validation without compromising the privacy of the owner. For example, it would allow the healthcare industry to share clinical data without revealing the patient's private information.
The downsides of PETs
We've already discussed the amazing capabilities of PETs when it comes to data privacy. However, there are a few downsides to be aware of before jumping in.

● PETs are extremely complex to use and manage
● Encryption and other data protection techniques increase the size of data, and require huge computational capacity
(consequently negatively affecting the environment)
● PETs are typically expensive to implement and maintain
How to adopt PETs



Due to complexity, technical teams are required for the adoption of PETs. It's the marketers job to potentially oversee the project or find the right partner, so it's useful to be across the PETs Adoption Guide by the Centre for Data Ethics and Innovation.

Essentially, the guide informs teams about the benefits and limitation of PETs, so educated decisions can be made.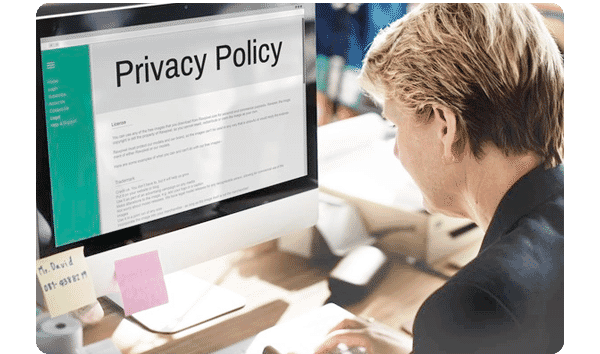 It begins with a series of questions in a 'decision tree' format. Users follow the questions to determine the best course of action for their situation.
The starting point asks users to describe how they intend to use data, with three options:

● Raw data needs to be accessed by or shared with another party
● Insights from the data need to be published
● Multiple data partners will be collaborating to conduct analysis on the data

As you follow the decision tree through to completion, your team will be provided with the information and technical resources you need to proceed. If you don't have the technical know-how in-house, we recommend working with data experts.
What do PETs mean for marketers?
With privacy tightening up and third-party cookies being phased out, it can feel like the days of personalisation are coming to a close, and to some extent they are. We simply aren't going to have the same data available to use as we have had in the past, but that doesn't mean all is lost.

Brands will now need to invest in a first-party data strategy to engage with future audiences. This involves a discovery process, as well as strategies for data acquisition and activation. Marketers need to make sure they can rely on their own site when it comes to first-party cookies and other data collection methods.

Content and marketing strategies will also have to shift slightly. With personalisation slipping further away, marketers will need to zoom out and create more broadly appealing content, while also focusing on strengthening their brand.

One thing we're sure of is that digital marketers are some of the most versatile professionals in the world who are adept at finding innovative ways to work with the changing digital landscape. With PETs, marketers have an opportunity to evolve further while also working within user privacy regulation parameters.
Getting started with a First-party data strategy
Our team of data experts will help you to future-proof your digital marketing, so you're always one step ahead, while also adhering to the latest privacy laws. Contact us today to discuss your options and what's involved.
Learn about our Digital Strategy Services
Learn how to

adopt in changing technologies

through First-party data