Earlier this week, Apple reminded developers to update their apps and prepare for the rollout of iOS14.5 and the AppTrackingTransparency tool. What does that mean for your Facebook advertising?
In the name of improving customer security and privacy, Apple's latest iOS14 requires all apps to align with their AppTrackingTransparency (ATT) framework. These updates are expected to impact the way marketers navigate the digital ecosystem.
In our previous blog, we covered the overall implications and changes expected in this iOS 14 roll out.
In this article we do deep dive into
how these updates present a risk to your Facebook advertising
what changes we recommend to minimise impact; and
what to expect next?


The risk?
Facebook was one of the first publishers to provide guidance on the impact of iOS14 and ITP on their advertising activity.
Facebook has a high penetration of performance-based advertisers who track and collect data events from tools like the Facebook pixel, and with around 54% of Australian mobile devices running on iOS, the impact from the expected reporting and targeting dilution makes them more exposed to the changes than most.
Most performance-based activity is the form of a click through from a Facebook environment to the advertiser's site which would require cross domain tracking. This privacy update will require Facebook to ask permission from users to track them across apps and websites. If iOS14 users don't choose to opt in, ad personalisation, performance, and reporting will be limited across both app and web conversion events.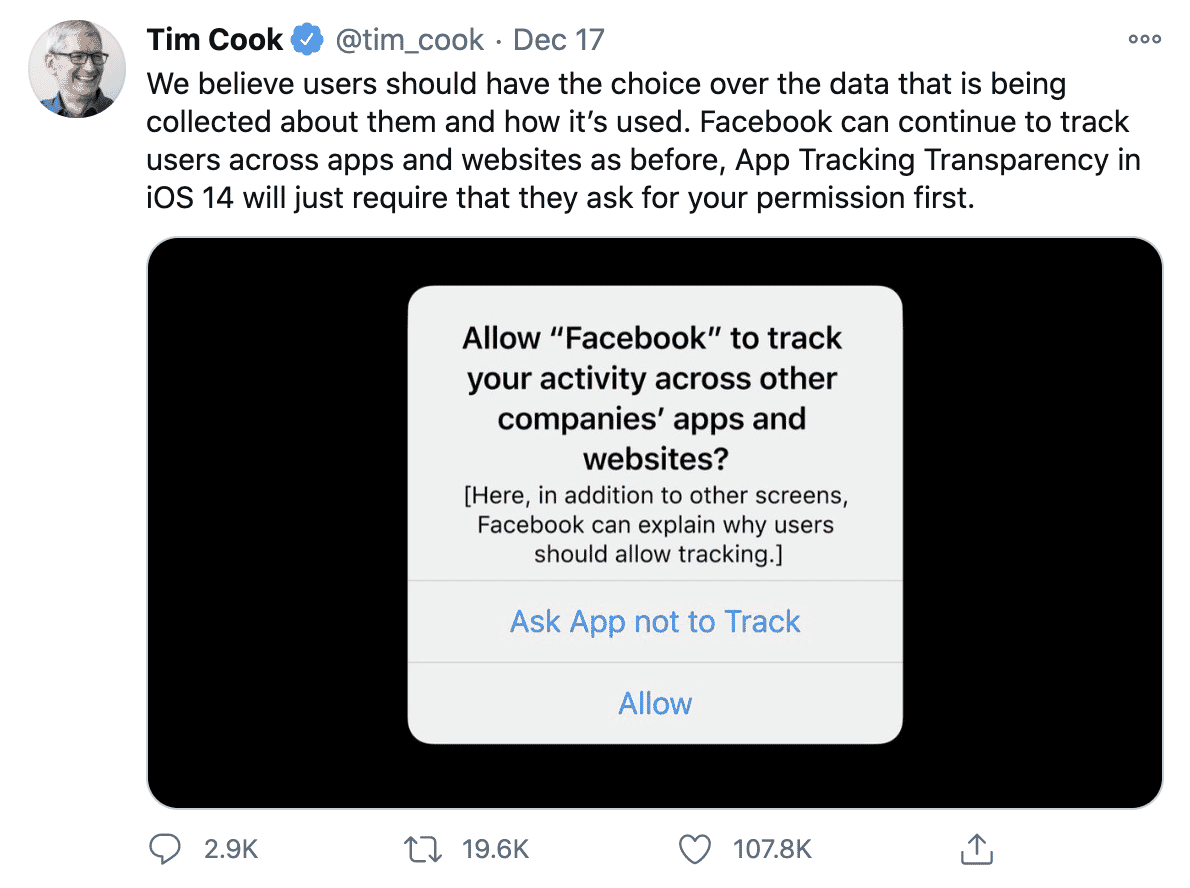 If a user does provide consent, then there will be no direct impact on how advertising is tracked. The IDFA becomes available to Facebook to utilise and link the user to the activity run.

Although there is no change to how activity is tracked, there will still be requirements to adjust setups of activity for all campaigns targeting users of iOS14 and above in order to accommodate the SKAdNetwork reporting capabilities.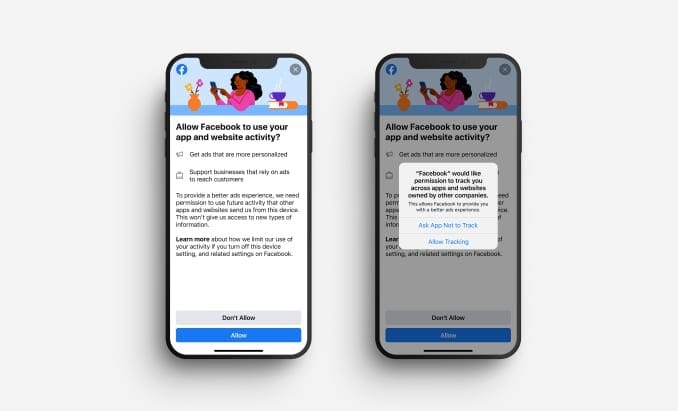 These prompts will appear on Apple users' screens immediately before the Apple pop-up appears.
Apple vs Facebook: the big picture
According to Statista.com, 81% of the users worldwide only use Facebook app on their mobile phone as opposed to 1.7% who use desktop / laptop computer to access Facebook. Apple's privacy update has the potential to pose a threat to their revenue.
Facebook is concerned with these updates rolled out, "the greatest impact will be felt many small businesses as opposed to the deep-pocketed organisations". It further points out that small businesses who experience a fall in their revenue from ads will be compelled to make money from subscriptions or in-app purchases, both aspects where Apple gets a percentage of the revenue between 15% to 30%.
Early February, Facebook started testing effects before the actual rollout. As a part of this test, Facebook began showing some users its own prompt to opt-in, explaining why it wants to track the activity.

Facebook is adopting Apple's SKAdnetwork functionality to enable as many signals as possible for their reporting and targeting methods on apps, however they will not be using their web variant, Private Click Management (PCM). Instead, Facebook have announced their own protocol, called Aggregated Event Measurement (AEM), to address App-Web attribution from web events linked to iOS14 once the ATT prompt is rolled out.

Whilst the concept of PCM and AEM is similar, Facebook have stated that the major differentiator for AEM is the technical nuances which solve app to web journeys, protecting scenarios where a user interacts with a Facebook ad unit in-app, and later converts on the web browser.
Immediate areas of focus and recommended changes
Here are the key actions that every Facebook advertiser needs to undertake in order to prepare for ATT:
Verify your domain: Due to the limitation on the number of events able to be tracked per domain, advertisers should ensure all domains are verified within the Business Manager.
Prioritise tracked events: Assess your current web event tracking and prioritise events according to importance from one to eight. If a user has not opted in for data to being shared, only 1 event can be tracked, and Facebook will take the event with the highest priority.

For app events, you can choose up to 63 individual or grouped events, setting prioritisation within Facebook Events Manager or your mobile measurement partner.


New Attribution Window: Facebook has now moved to a 7 day click and 1-day view conversion window, and all activity will default to this when the iOS14 changes are activated. If your activity has a greater attribution window, we recommend manually moving to the new 7-Day reporting, prior to the iOS14 changes are rolled out.


Campaign Structure: Due to the limitations of SKAdnetwork on the number of events tracked per domain, Facebook will require all app install campaigns targeting iOS14 and higher, to be run out of a single account, per app. This means that if you run from a global app, app install campaign will need to be configured in the same account.

The number of campaigns will be limited to 9 per ad account, and just 5 ad sets per campaign of the same optimisation type.


Advertiser Apps: To continue tracking in-app activity, review Facebook's data ingestion practices to inform your app privacy details via Apple's App Store Connect developers.facebook.com/blog. If your app is using Facebook's SDK, this needs to be updated to 8.1 or above, which supports the SKAdNetwork API.
What to expect?
As the methodology of attributing and tracking events is changing, the reporting of performance will change. Reporting will be aggregated and delayed up to 48hrs due to the randomised time delay implemented by Apple.
Due to the reduced support for viewing breakdowns such as gender, age etc, ad precision is likely to be impacted. This will impact on any type of automatic optimisations implemented either directly within the Business Manager or through an FMP.
We expect audience list sizes to decrease as a result of users opting out of data sharing. In this case, audiences built from events will no longer be usable - as an example, if you wanted to exclude an audience who had previously converted on your retail site, Facebook will no longer be able to attribute a conversion to an actual user if no consent is given, and a comprehensive custom audience list will no longer be able to be built.
This will also apply to remarketing lists or any custom audience (and lookalikes) built from events, so advertisers should be prepared for a change in performance and remain agile to optimisation.
Resolution's PoV
These iOS14 privacy updates will bring their own set of challenges and wins. Facebook have outlined a number of changes they are making to mitigate the impact.
The only way forward is to embrace the ever-evolving changes in the digital advertising world. Be prepared and pro-active in taking the necessary steps before the changes are rolled out. Find the right mix of channels that will allow you to market your products / services to the right audience.
What are your next steps to be prepared for the iOS14 privacy update?
This article is a part of the Apple iOS14 - User Privacy Update and Partners Series. Check out the other articles in this series: