Mastering personalised digital experiences is one of the biggest challenges modern marketers face, but we've got your back!
More than ever, we as consumers expect an increasingly rich level of personalisation in our digital interactions. Whether checking our social media feeds, paying an electricity bill through an app, or shopping online for a pair of shoes, having a digital platform reflect our preferences is becoming de rigueur in the online experience.
As the new star of the digital marketing world, digital experience platforms (DXPs) have garnered increasing attention as a powerful tool to deliver on this expectation.
If you haven't already heard of DXPs, you might be forgiven for asking "yet another tech acronym! Are DXPs really something serious to take a note of?"
In this article, we unpack how modern technology can help you deliver seamless omnichannel experiences leveraging a DXP.
We cover:
Digital experience platforms (DXP) may be a relative newcomer in the burgeoning world of marketing technologies, but it is powering a step-change in how brands deliver seamless digital experiences to their customers.
This is thanks to two key features - a DXP's power to personalise the customer experience to an increasingly sophisticated degree, and its ability to integrate previously scattered technology platforms into a cohesive whole.
So in a nutshell, what is a DXP?
A DXP is a technology solution that gives organisations the power to deliver personalised experiences across a broad array of digital touchpoints throughout the customer lifecycle in a coordinated way, and across any device or digital channel through which customers interact with a brand, product or service.
We'll get to exactly how they do that in a moment – but first it's important to understand how DXPs differ from traditional Content Management Systems (CMS).
The Evolution of Content Management (DXP vs CMS vs WEM)
The traditional web CMS was a child of the online shift that played out through the 1990s a time when most websites were nothing more than digital brochures. eCommerce was in its infancy, there was no social media as we know it, and a brand's internet presence was, at best, a supporting cast member to the offline world playing the occasional cameo role.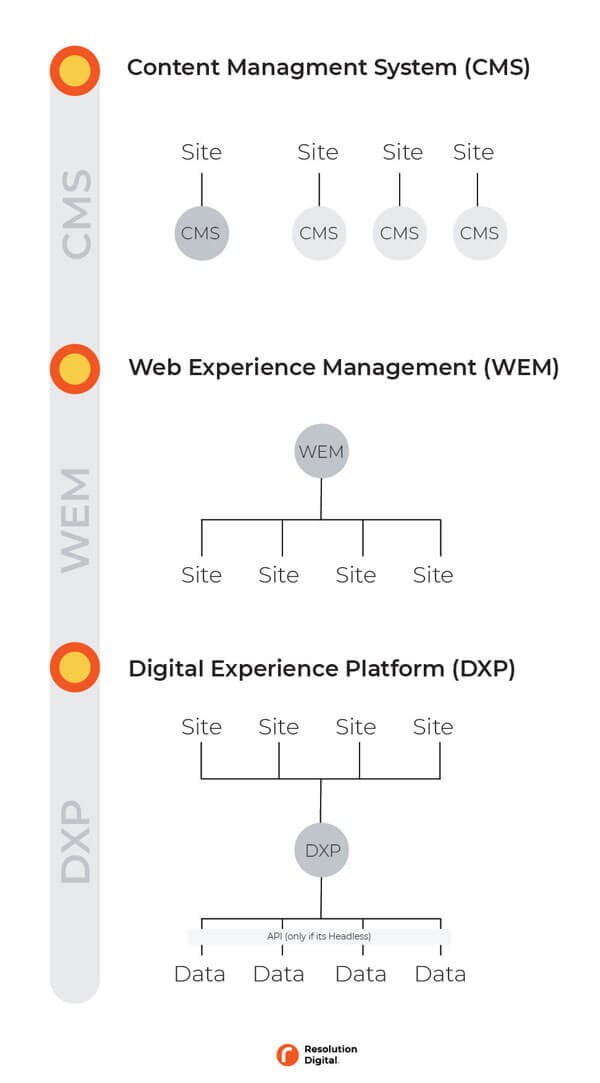 To that end, CMSs were designed to enable teams to create, edit, and manage the delivery of digital content by visually rendering it to a web browser. If a company had different websites, it often needed a separate CMS platform for each site.

As digital grew from a novelty to a pillar of a brand's marketing strategy, the web experience for customers became more important, and the challenge of having a consistent, yet customisable presence led to the development of Web Experience Managers (WEMs).

The WEM allowed a global company with multiple geographic markets, in different languages, to control content management at a central location.

However, the WEM wasn't able to integrate all a company's systems to make the customer experience a seamless one across all touchpoints.

With the explosion of new platforms and devices, customers were given the power to interact with a product or service across multiple digital spaces. At the same time, organisations were adopting an increasingly complex set of IT platforms, which were often siloed.

The goal of integrating these to deliver a seamless customer experience became ever more critical.

Necessity is the mother of invention

DXPs started life as an evolution of the CMS and WEM, but it had a couple of key distinctions.

Using advanced rule based automation, the DXP takes the context of the user into account by synthesising existing customer data and feeding it into the customer experience. This might be something as simple as the local weather, or it could be a sophisticated algorithm that delivers segmented content based on a customer profile.

This eclipses the original CMS, which takes no consideration into who you are, what your preferences are, or where you are.

The best DXPs will allow the scope for increasingly granular delivery of more and more unique experiences at every touchpoint in a customer lifecycle by managing the way they present based on the end user's unique attributes.
In short, a DXP is a single source solution for delivering unique customer experiences.

It can coordinate content across different digital environments by separating the delivery layer from the core content layer. The platform might be via an ecommerce website, through an online advertisement leading to a portal, through an app, or in a physical store at a kiosk - even supporting an in-store salesperson to provide personalised advice and suggestions.

It's all about the data…

All of these channels are collecting data and feeding it back into the customer experience.

A DXP ingests and responds to this data by maintaining a fully integrated user record.

This allows the development of sophisticated customer profiles, and helps achieve the "holy grail" of true omnichannel marketing. That is, reaching customers with a consistent and responsive experience across any platform, at best nailing exactly what that customer wants.

Parallel with increasing customer expectations, the complexity of digital experiences is set to explode in the coming years. A DXP will also have the capacity to respond to these constant changes by incorporating new automations, connections to third party applications through APIs, and internal updates.
Is a DXP the right solution for your organisation?
An ideal DXP would bring together various functionalities such as Digital Asset Management (DAM), Data Centre (such as CRM), Commerce, Contextual Intelligence (customer profile engine, language translation etc) and Analytics (predictive analytics, machine learning). With the continual evolution of the competitive needs of an organisation, finding the right DXP that suits an organisation's needs is critical.
The following questions might help in your assessment:
Do you see the value in creating consistent and personalised experiences for your customers across multiple touchpoints?
Do you rely on more than one back-end system that are not optimally integrated with each other?
Do you have a diverse audience and want to reach your customers across multiple platforms?
Are you considering the digital customer experience as a strategic pillar in your organisation's future goal?
If your answer is "yes" to one or more of these questions, maybe now is the time to consider re-platforming to a DXP.
A word of warning
Implementing a DXP requires a significant investment to ensure you are using its capabilities to the fullest potential. It also needs an evolution strategy.
To get the best out of a DXP, we recommend assembling a team that will be responsible for maintaining and managing the system.
You don't want to have the keys to a Ferrari in your hand but be out of petrol!
How can we help you get started?
Resolution Digital doesn't have an investment in any one DXP. We're a 100% technology-agnostic business.
Get in touch to get started with:
A DXP Assessment: reviewing your company's situation, your goals and challenges to explore the best possible DXP solution.
A six-point scoring system & DXP strategy: to maximise your return on investment and ensure your investment into a DXP is a sound one, setting you up for the long-term.
Over to you
Powered with customer demand and continual evolution of AI and machine learning, in the foreseeable future, we expect an increase in the momentum for DXPs.
A DXP is an exciting solution for offering personalised customers digital experiences along the entire customer journey. And DXPs require extensive research, strategy and customisation to make the most it – and that's what we're here for. Contact us today.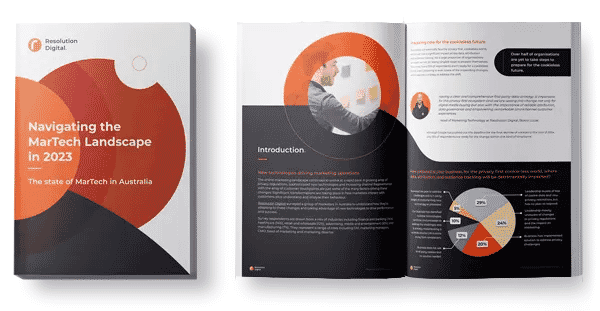 The State of MarTech in Australia 2023
The online marketing landscape continues to evolve at a rapid pace. We surveyed a group of marketing leaders in Australia to see how they're taking advantage of new technologies to drive remarkable results.
Learn more about our DXP services
Are you interested to learn more about our

DXP services

?