Download the latest MarTech Capability Matrix that includes all the recent changes in the evolving MarTech space.
The second half of 2022 has been quiet on the acquisition front, but we have seen a marked shift in the approach to new marketing technology capabilities across the major vendors. Several big players have simplified and rebranded significant portions of their marketing technology stacks to remove legacy branding and simplify product naming.
Both Adobe and Salesforce have shifted to building out new capabilities in-house, particularly in the customer data platform (CDP) space. This naturally leverages the capability and experience gained from its investment in this space over the last 2 years.
Salesforce lets the Genie out of the bottle.
On 20th September 2022, Salesforce announced Salesforce Genie, their real-time data platform that powers the entire Salesforce Customer 360 platform across marketing, sales, service, commerce, Tableau data analytics, Mulesoft integration platform, and more.
Salesforce promotes Genie as the next iteration of the Customer Data Platform (CDP), expanding upon a typical CDP capability by making it real-time and expanding the data sources beyond marketing use cases.
Salesforce Genie is a critical component of Salesforce Customer 360 platform, in Salesforce's words "Powering the World's First Real-Time CRM".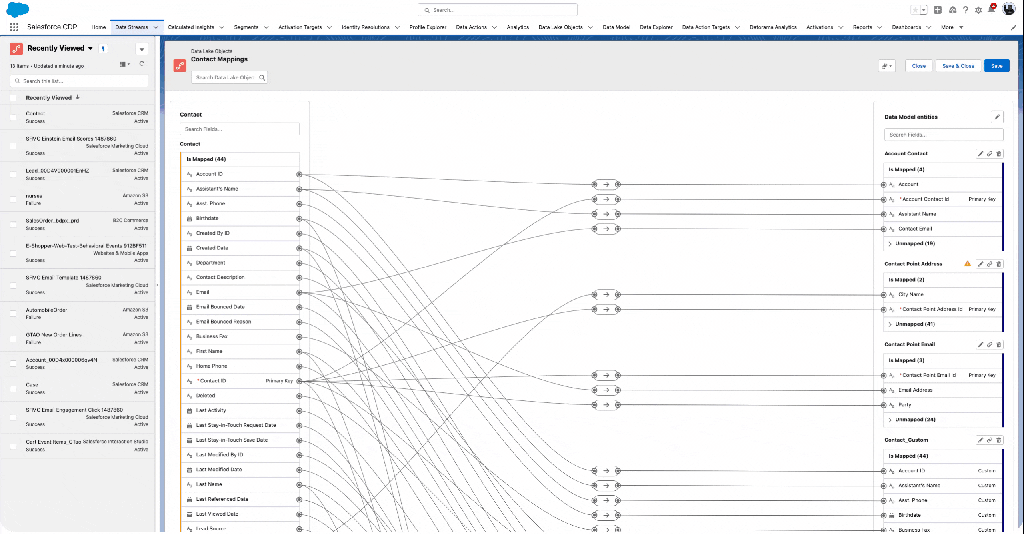 Image source: Salesforce
According to Salesforce, Genie can handle a near infinite amount of dynamic data ingested via built-in connectors that connect data from every channel (mobile, web, APIs), legacy data through MuleSoft, and historical data from proprietary data lakes. Genie includes powerful automation to automatically harmonise that data into a single customer view.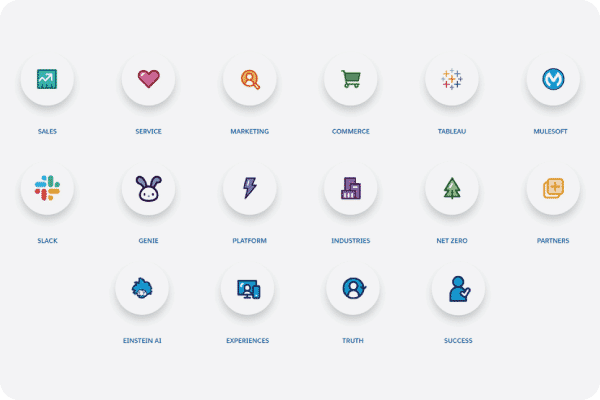 Image source: Salesforce
Salesforce Genie vs Marketing Cloud Customer Data Platform
In April 2022, Salesforce announced several Salesforce MarTech products would be renamed would be renamed as part of Salesforce's "Easy" campaign, in aid of simplifying the Salesforce Marketing Cloud product suite. With the release of Salesforce Genie, we're hearing several customers ask what the difference between Salesforce Genie and Salesforce Marketing Cloud Customer Data Platform actually is?
Although both platforms describe similar data ingestion and unification capabilities to deliver customer experiences and personalisation, the core difference is that Salesforce Marketing Cloud Customer Data Platform was part of Salesforce marketing Cloud, while Salesforce Genie extends the data unification, identify resolution, and activation capability across the entire Customer 360 platform.
Salesforce Genie also offers new advanced capabilities from across the Salesforce product suite including; Flow Automation, Einstein AI, and Zero-Copy Architecture
Sitecore's Composable DXP
Sitecore has continued to undergo a transition into the future of composable DXPs with their cloud solutions being split into three key cloud products - Content Cloud, Engagement Cloud and Commerce Cloud. These cloud solutions include a variety of marketing technology platforms including Sitecore Content Hub (DAM), Sitecore Personalize and Sitecore CDP.
Farewell Kentico Kontent
Due to increased funding, Kentico's headless CMS solution Kentico Kontent has been rebranded to Kontent.ai and has been split from Kentico Xperience, its Digital Experience Platform.
Recently, we were proud to be named Global Site of the Month by Kentico for the Adelaide Central Plaza website, for which we consolidated and upgraded their websites, streamlining branding across the business.
The end of Data Studio: Google unifies its business intelligence platforms under Looker Studio.
At the Google Cloud Next 2022 conference, Google revealed that it will unify its business intelligence and visualisation tools under the Looker Studio name. However, Google has retained the original URL.
Google acquired Looker in June 2019 for $2.6 Billion, a few days before Salesforce announced its acquisition of Tableau for $15.7 Billion. Data Studio was launched in 2016 as a free data visualisation tool.
With this announcement, we expect to see Looker Studio as the face of Google's business analytics suite of tools including capability from across its platforms such as Data Studio, Connected Sheets, Google Cloud Platform (GCP) data management and analytics portfolio, BigLake and Analytics Hub, and Log Analytics in Cloud Logging.
Google launches enterprise-grade business intelligence with Looker Studio Pro.
Looker Studio Pro is the enterprise version of Looker Studio, including enterprise, focused features such as collaboration capabilities and integration with Dataplex - Google's cloud data management, governance, and data access capability.
Where are the data governance and privacy acquisitions?
An area that hasn't been as pronounced as you would expect is the data privacy and governance space. We've updated the MarTech Matrix to highlight the data governance and privacy capabilities within each MarTech Stack.
A notable exception is Google's Dataplex.
Dataplex unifies data distributed across data warehouses, data lakes, and data marts to help automate data management and power business analytics at scale. It enables the standardisation of security policies, metadata, governance and data classification for consistent controls across storage devices. It includes data intelligence using Google AI/ML capabilities to help with data discovery, metadata harvesting, lifecycle management, and data quality. This ensures seamless access to business analytics and data science teams regardless of where the source data is housed.
Outside of the major MarTech players in our Marketing Technology Matrix, there have been some notable acquisitions in the data governance and privacy space including Proofpoint's acquisition of data protection start-up Dathena, and Thales acquiring customer identity and access management business OneWelcome.
Marketing technology predictions for 2022 outline that privacy is the number one concern for CMOs in 2022. We're expecting to see the big players make a public display in this space, whether that be via acquisition, or launch and publicise new features or capabilities.
Has MarTech reached another period of stability?
Over the past 10-15 years there have been cycles of acquisition activity followed by periods of stability, as businesses integrate the new capability, systems, and people into their parent organisation. This flurry of acquisition activity extended for several years during the accelerated digital transformation that occurred during COVID, however, a period of stability is expected for 2023 – 2024 as organisations focus on integration and maximising the value extraction from these businesses.
The MarTech Capability Matrix has been fully refreshed with the latest acquisitions, product rebrands, and enhancements in platform capabilities. Download the latest version to better understand which capabilities to unlock in your preferred stack.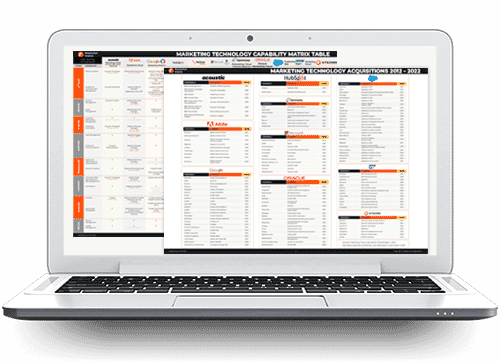 Stay up to date with our latest MarTech Capability Matrix
The marketing technology (MarTech) space is rapidly evolving, with frequent acquisitions, re-brands, and little commonality in how the various MarTech platform's capabilities align to a common user journey.
This can make it challenging for you to assess potential MarTech and AdTech vendors, or understand which capabilities to unlock in your preferred technology stack.
Our MarTech Capability Matrix features the capabilities of the major technology vendors used in Australia, including Google, Salesforce, Adobe, Microsoft, Oracle, SAP, Sitecore, Optimizely, and HubSpot.
Learn more about our MarTech Services
Talk to our technology consultants