In April, Salesforce announced several of its MarTech products and add-ons will be renamed.
Salesforce announced name changes to their marketing cloud products as part of their "Easy" campaign at Dreamforce in 2021. The initiative aims at simplifying the Salesforce Marketing Cloud product suite, to be more intuitive and consistent across the stack.
We'll cover the name changes in more detail, and what this means to the Marketing Cloud communities.
Marketing Cloud Engagement
Previously known as:
Marketing Cloud Email Studio
Email, Messaging, and Journeys
Marketing Cloud Engagement focuses on email marketing, newsletters and personalised user journeys. Previously, Salesforce had offered two customer engagement products – Marketing Cloud Email Studio and Email, Messaging and Journeys— and has streamlined them into one offering.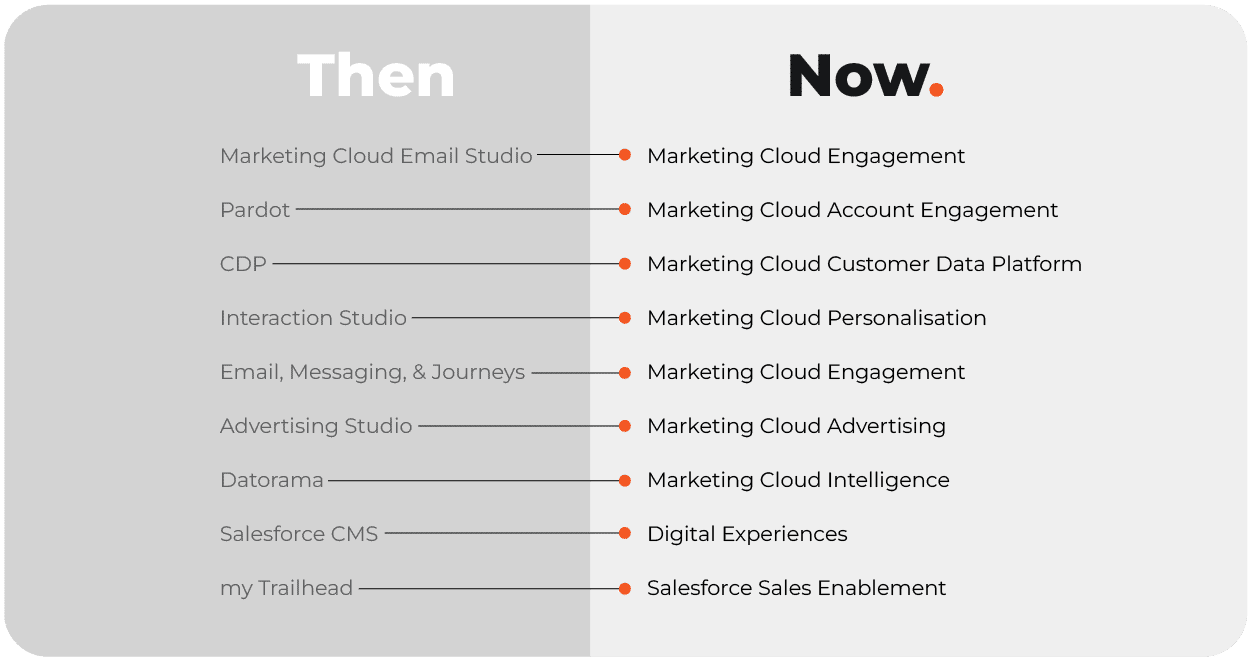 Marketing Cloud Account Engagement
Previously known as:
Marketing Cloud Account Engagement is Salesforces B2B and account-based marketing product. It enables marketers to identify leads to sales, create and track automated marketing campaigns, analyse prospect activity and engagement, and guide prospects across the user journey.
Marketing Cloud Customer Data Platform
Marketing Cloud Customer Data Platform (CDP)is Salesforce's self-service customer data platform, that drives personalisation and engagement features.
Marketing Cloud Personalisation
Previously known as:
Acquired by Salesforce in 2021, Interaction Studio's rename brings it under the Marketing Cloud umbrella. It offers real-time personalisation, helps marketers understand individual user experiences, and provides macro-level insights into which products and offers are driving sales conversions.
Marketing Cloud Advertising
Previously known as:
Marketing Cloud Advertising allows marketers to coordinate display advertising across digital advertising platforms using your CRM data to attract customers across digital touchpoints.
Marketing Cloud Intelligence
Previously known as:
Marketing Cloud Intelligence powered by Datorama is Salesforce's marketing reporting and visualisation product that enables B2B and B2C marketers to leverage data for reporting, measurement and optimisation.
Digital Experiences
Previously known as:
Previously described as a 'hybrid CMS', Salesforce CMS has evolved into Digital Experiences, a digital experience platform (DXP). It features pre-built apps, easy-to-use drag-and-drop tools, and low-code web tools to help grow your brand and engage users.
Salesforce Sales Enablement
Previously known as:
myTrailhead will soon become Salesforce Sales Enablement. It remains the learning and fun training hub for Salesforce's products, which is ideal for marketers looking to upskill and make the most out of the platform.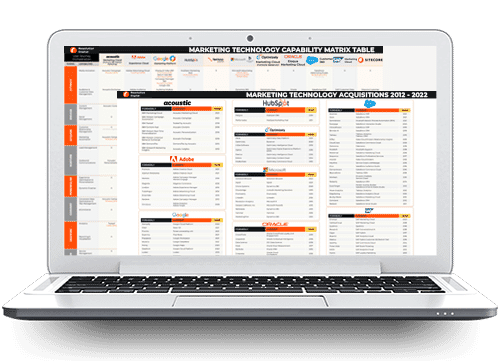 Stay up to date with our latest MarTech Capability Matrix
The Marketing Technology (MarTech) space is rapidly evolving, with frequent acquisitions, re-brands, and little commonality in how the various marketing technology platform's capabilities align to a common user journey.
This can make it challenging for you to assess potential MarTech and AdTech vendors, or understand which capabilities to unlock in your preferred technology stack.
Our MarTech Capability Matrix features the capabilities of the major technology vendors used in Australia, including Google, Salesforce, Adobe, Microsoft, Oracle, SAP, Sitecore, Optimizely, and Hubspot.
Accelerate your digital transformation with our marketing technology consultants. Agnostic marketing technology services from consulting to audit, strategy, vendor selection, implementation, and ongoing platform management. We are certified partners with all major Advertising and Marketing Technology Vendors, including Sitecore, Google, Klaviyo, Salesforce, Optimizely, Twilio Segment, Kentico and Adobe.
Learn more about our Salesforce Marketing Cloud services
Questions? Speak to our technology consultants.