Our Managing Director, Matthew Keegan shares his insights on the biggest MarTech priorities for CMOs during economic uncertainty.
What to prioritise in MarTech during economic headturns
As budgets tighten amid rising inflation and talks of a recession, CMO's top priorities must include getting more value from their MarTech stack – yet only one in ten businesses use measurement and analytics to determine marketing investment decisions.
Gartner's Marketing Technology survey reveals that, at least for now, the appetite for MarTech purchasing is strong, with its share of budget sitting at 25.4 percent. Yet a concerning 42 percent of overall MarTech is underutilised. There is still millions of dollars in wasted spend on MarTech stacks, including implementation and integration woes.
That appetite for MarTech spending is set to continue changing this year, as CMOs are expected to do more with less amid economic uncertainty. Unlocking the true value of the customer first-party data will be key to making the most of MarTech investments, especially as Google prepares to scrap Chrome's support for third-party tracking cookies.
Once businesses have adopted a first-party data strategy, it puts them in the favourable position to implement advanced personalisation strategies and lean into data-led decision making to guide marketing efforts and drive impact.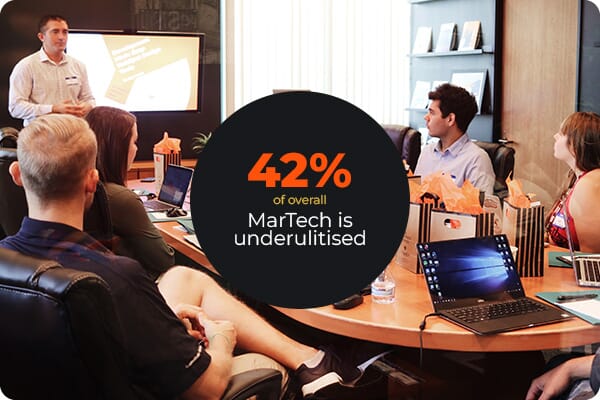 How efficient is your MarTech stack?
We've found that a lack of budget and financial constraints has been a stumbling block to investing in MarTech solutions for many years. However, with so many MarTech solutions available, being used across different departments, we're seeing that poor technology implementation and integration are now the most common challenges.
This is reflected in Resolution Digital's MarTech survey findings, as almost a third of businesses surveyed in Australia only use basic historic media reporting to adjust budgets and inform investment decisions. There is minimal use of predictive analytic modelling to forecast how investment will drive business outcomes.
Only 10 percent of businesses outline that measurement drives investment allocation using a holistic approach across platforms using a cross functionally aligned measurement methodology and future-proofed attribution models. This approach creates a virtuous circle of buying, reviewing, testing, and optimising different technology platforms to allow for this level of measurement. This can be aided by Resolution Digital's MarTech capability matrix to navigating the daunting and cluttered MarTech space.
Unfortunately, these savvy businesses are outnumbered by the 16 per cent who admit that the HIPPO (Highest Paid Person's Opinion) determines marketing investment and channel allocation.
Addressing the pressure to demonstrating marketing effectiveness and ROI
When it comes to understanding priorities, Resolution Digital's survey found that at least a third of respondents in every MarTech category are reviewing current technology platforms in place. Top of the list for review are technologies related to better utilising and actioning critical data sets, such as first-party customer data.
This highlights the ongoing pressure to demonstrate marketing effectiveness and ROI. Budgets may have been recovering following the lows of 2021, according to Gartner's State of Marketing Budget and Strategy in 2022 report, yet marketers may not always be achieving ROI expectations across their marketing investments, including their MarTech stack. They will feel the pressure in 2023 as budgets tighten with the economic downturn.
The top three priorities for marketers to focus on to meet their ever-expanding goals are marketing data and analytics, customer understanding and experience management, and marketing technology, according to Gartner's research.
All of this makes a compelling case for the value of first-party data in preparing for the inevitable demise of cookies while meeting the demand for effective, meaningful data through measurement and analytics.
CMOs must prioritise a first-party data strategy to get more value from their MarTech stack, be able to effectively segment and target audiences and to navigate the ongoing challenges that lie ahead.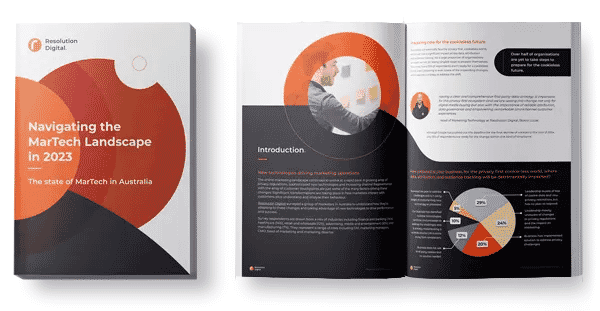 The State of MarTech in Australia 2023
The online marketing landscape continues to evolve at a rapid pace. We surveyed a group of marketing leaders in Australia to see how they're taking advantage of new technologies to drive remarkable results.
Press coverage: AdNews
Learn about our Digital Strategy Services
Contact us to discover how we can deliver Remarkable results for you.